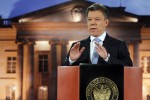 President Juan Manuel Santos said today that time is "perfect, astral", to carry out the peace process begun by the Revolutionary Armed Forces (FARC), which could be concluded in the coming six to eight months.
The conditions are now very different from those that prevailed in earlier times. The world has changed and Colombia as well. The whole world is supporting this process and the region too. I hope this will be the basis for a happy ending, the president stated.
I think the major thing is to focus on the five points of the agenda adopted by the two parties, noting that this should be a decent, serious, effective and realistic process, and "there are things that can be and others not," Santos said.
We have talked about months, not years. I hope that, if there is a will in six or eight months, we could say we finished the second phase of negotiations, which is to say that we officially ended the conflict, he noted.
The FARC ratified at a news conference held in Havana, Cuba, its will toward peace to seal the lasting armed conflict in Colombia for almost 50 years.
The FARC announced in that conference the names of two of the leaders that will make up the negotiating team, Ivan Marquez and Jesus Santrich, and their intention to join Ricardo Palmera, alias Simon Trinidad, sentenced to 60 years in prison in the United States, where he was extradited.
Another table of negotiations between the parties will begin on October 8 in Oslo, Norway.  (Taken from PL)