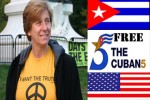 U.S. pacifist Cindy Sheehan sent a letter to President Barack Obama, demanding the release of five Cuban antiterrorist fighters unjustly held in this country almost 14 years ago.The U.S. social activist joined the international campaign in solidarity with the Cuban Five. They were detained in Florida in 1998 for monitoring and impeding actions from terrorist groups against Cuba.
Sheehan is a renowned pacifist whose son, Casey Sheehan, a U.S. Army soldier, was killed during the Pentagon war against Irak in 2004, recalled the International Committee to Free the Five.
I am writing to you about the case of the Cuban Five. They are five Cuban antiterrorist fighters who came to the United States to supervise the activities of real terrorists, Sheehan wrote in her letter to Obama.
I am appealing to you to "Free the Five" based on the fact that you have said, and shown the world that the USA can "act pre-emptively" to protect our "safety," states the text.
'I would like to believe that you would extend the Cuban people and government the same right to protect its citizens from acts of terrorism,' states the letter.
Your regime has vigorously violated the sovereignty of several countries in the purported quest to "keep America safe." The Cuban government and the Five Heroes did far less, said the also writer.
Sheehan recalled to Obama that the United States has trained and harbored real terrorists such as Orlando Bosch and Luis Posada Carriles, while the injustice system of this country has convicted these five Cubans in a travesty of justice and the penalties were inhumane, she noted.
Social organizations of solidarity with Cuba based in Miami, Florida, described as a categorical success the 2012 Second Conference to demand the release of the Cuban Five.
More than 80 people met in mid July at the Embassy Suites Hotel in Miami, to prove their commitment with the noble causes of Gerardo Hernandez, Ramon Labañino, Antonio Guerrero, Fernando Gonzalez and Rene Gonzalez, universally known as the Cuban Five.
Spokesmen were Max Lesnik, director of Radio Miami station and leader of the Marti Alliance, and Andres Gomez, coordinator of the Antonio Maceo Brigade and director of the AreitoDigital magazine, stated the solidarity groups at a release to which Prensa Latina had access.
At a biased trial held in Miami, the Five were condemned to long sentences in prison that included double life, 15 years and 19 years.
International figures, civil associations and governmental representatives have defended them, recalling that they only controlled the activities of extremist groups trying to anticipate their actions and collecting evidences on possible attacks against Cuba.
(Taken from PL)