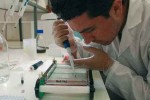 With more than 80 sanitary registrations and export operations in nearly 30 countries, the Cuban Commercial Company CIMAB S.A., an exclusive representative of the Immunology Molecular Center (CIM), is marking 20 years of work.
Monoclonal antibodies and therapeutical vaccines for cancer treatment are among the main products commercialized by this company, which has expanded the presence of bio-pharmaceutical products developed in the island in the international market.
CIMAB S.A. general manager Norkis Arteaga told Prensa Latina that there are currently four biological products with great impact.
One of them is CIMAher, trade name of the monoclonal antibody Nimotuzumbad, a humanized immunoglobine produced by CIM. It is recommended in combination with radiotherapy and/or chemotherapy in brain and neck tumor treatment in advanced studies, Arteaga said.
CIMAher induces an objective anti-tumor response, partial or complete remission, and in combination with radiotherapy and/or chemotherapy, the response is enhanced and no evidences of a severe clinical toxicity.
This product is registered in 26 Latin America, Middle East and Asian countries, and is in process of registration in equal quantity of nations, she noted.
Another product currently in demand is CIMAVax-EGF, a therapeutical vaccine to treat advanced stage non-small cell lung cancer.
This is the first vaccine against this kind of cancer registered worldwide. It has been registered in Cuba, Canada, the United States, Japan and South Africa, among other countries.  (Taken from PL)