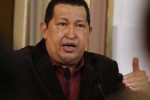 Venezuelan President Hugo Chavez proposed that the National Assembly make an amendment or constitutional reform to include social programs of the State in the Constitution of the South American country.
In a telephone conversation with the regular press conference of the leadership of the ruling United Socialist Party of Venezuela, Chavez insisted that the legislature take up the idea of ​​giving constitutional status to the inclusive government strategies, a proposal that was categorically rejected by right-wing sectors in 2007.
The Venezuelan president's initiative followed a proposal by opposition presidential candidate, Henrique Capriles, to create a law on missions — as social projects are known in the South American country — to supposedly reduce the risk that only people who support the Bolivarian Revolution receive the benefits missions.
The day before, President Hugo Chavez had announced that his Cabinet will soon promote a Venezuelan petrochemical project, which entails the opening of various plants across national territory and the construction of houses and prefabricated structures with oil-derivatives.  (Taken from RHC)