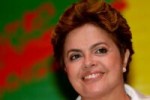 Brazilian President Dilma Rousseff will begin an official visit to Cuba on Monday afternoon to enhance bilateral relations.
Rousseff's agenda in Havana includes meetings with local leaders and a tribute to Cuban National Hero Jose Marti.The Brazilian president will conclude her visit on Wednesday and will travel to Haiti.
The objective of her visit to Cuba is to further strengthen the excellent bilateral links in such sectors as infrastructure, agriculture and education.
Brazil, which is Cuba's second major trading partner in Latin America, after Venezuela, participates in the enlargement works in the western port of Mariel, and supplies technology and assistance to a project to produce soy and corn.
Both countries established diplomatic relations in 1943. Ties have been strengthened since Presidents Luiz Inacio Lula da Silva (2003-2010) and Rousseff (January 1, 2011) took office.
Havana and Brasilia are members of the Community of Latin American and Caribbean States (CELAC), a genuine regional integrationist bloc made up of 34 nations. (Taken from PL).