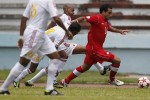 Cuban national soccer team faces Canada today in BMO Field, Toronto, in the fifth qualifying game for the World Cup Brazil 2014.
Cuban squad led by coach Alexander Gonzalez, is just eliminated from next World Cup since the third round of this qualifying stage, because it is located in the bottom of Group C with four straight losses, none goals in favor and six against.
Cuban´s main objective will be to break that goal drought, that´s why the team arrived in Toronto with the idea of achieving at least a draw against the Canadians, which beat them 1-0 in the first leg settled last month at the Pedro Marrero stadium in Havana.
Gonzalez will give a new opportunity to Roberto Linares as a striker, who had lost his place in recent calls in favor of Dalain Aira or Yaudel Lahera, because of his lack of goal.
To provide balls to Linares, the trainer will include in the line-up Ruslan Batista in the right and Adonis Ramos in the left of midfield, while Alberto Gomez will be the playmaker due to Marcel Hernandez´s injury.
Gomez also helps in containment functions to Domingo Francisco and Jaime Colome, who is Cuba´s free-kicks speciallist.
On defense, Gonzalez will debut young left-back Jose Dayron Macias, while on the right will be Joel Colome. The central defenders are Jorge Luis Clavelo and Reysander Fernandez, and the goalkeeper will be the 38 years old veteran Odelín Molina.
The newcomers of Cuban squad are the already mentioned Macias, striker Eviel Cordovés and midfielder Maikel Chang.