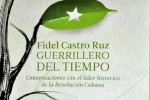 The book "Fidel Castro Ruz, Guerrillero del Tiempo" (Fidel Castro Ruz, Guerrilla of Time), by journalist and writer Katiuska Blanco, will be launched on Monday in Rosario, the Argentine city where Ernesto Che Guevara was born.
The launch will take place tonight at the auditorium of the Faculty of Humanity and Art of the Rosario University, in the presence, among others, of the author, Cuban ambassador Jorge Lamadrid, and Patricio Echegaray, Secretary-General of the Communist Party of Argentina (PCA).
"Fidel Castro Ruz, Guerrillero del Tiempo" was already launched in Buenos Aires on Friday during Cuba's Day at the 38th International Book Fair, at an act in which Nobel Peace prizewinner Adolfo Perez Esquivel praised wisdom and coherence of the leader of the Cuban Revolution.
The also president of Peace and Justice Service of Argentina stated that "Fidel Castro is a wise man", this does not mean to have read more books, but understand the deep sense of life and share that knowledge with his people and all humanity.
The book was already launched in Venezuela, Bolivia and Ecuador. As well as in Rosario and Buenos Aires, there will be two launches: one in the headquarter of PCA on April 24, and in the Buenos Aires capital of La Plata on April 25.
Taken from Prensa Latina