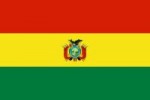 Bolivia will start on Tuesday a new stage in the democratic construction of the Plurinational State, when the 56 judges elected in historic elections swear in during a ceremony in the city of Sucre. Bolivia became in 2011 the first nation in the world to choose their judges by popular vote, after the original Judicial Body elections held last October 16.About 80 percent of more than five million registered voters elected the 28 permanent judges and 28 substitutes to the Constitutional Court, Supreme and Environmental Court and Judiciary Council.
The country's institutions are now completed with the formation of a new justice system, after a vote marked by the broad participation of citizens and desperate attacks of opposition parties to the process of change being experienced by the nation since 2006.
The opposition tried to defame the legitimacy of an unprecedented process, which was monitored by observers from several multilateral agencies such as the Union of South American Nations and the United Nations, among others.
Bolivian President Evo Morales said the process began a unique legal system that now will serve the people. (Taken from PL).