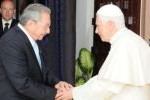 Pope Benedict XVI thanked President Raul Castro in a letter published on Friday for the warm welcome he received during his apostolic visit to Cuba in March.
"I am pleased to inform Your Excellency and other Authorities of the country about my living gratitude for the careful attentions they gave me during my unforgettable stay in those noble lands, where I could meet with the Cuban", His Holiness wrote in a letter published in Granma newspaper.
Benedict XVI visited Cuba from March 26 to 28, coinciding with the Jubilee Year for the 400th anniversary of the discovery of the image of the Virgin of La Caridad del Cobre, considered the patron saint of Cuba by Catholics.
In the text, received here on April 27, the head of State of the Vatican City also noted that he corresponds to the "exquisite hospitality" in those "unforgettable days" with wows for "Cuba to continue moving forward with determination through the road of freedom, solidarity and harmony, for the common good and the progress of all sons and daughters."
The Supreme Pontiff also gave a "special Apostolic Blessing, a pledge of copious divine favors."
During his stay in Cuba, the Bishop of Rome officiated two masses, one in Santiago de Cuba and another one in Havana, and held talks with President Raul Castro, the leader of the Cuban Revolution, Fidel Castro, and religious authorities.
The Pope also visited the Sanctuary of the Virgin of La Caridad del Cobre in Santiago de Cuba, where he prayed along with his retinue and considered that the presence of the Saint there was a blessing.
Shortly before returning to Rome, Benedict XVI criticized the U.S.-imposed economic, trade and financial blockade on Cuba. (Taken from PL)