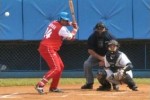 The team from USA beat Cuba on Monday 5×4 in the last game of the friendly meet held between these two baseball powers in Havana, which favored locals 3×2.
Jonathon Crawford took the win acting as reliever and thus achieved his team's two victories in the short tourney, while righty Antonio Romero, from Havana,  got the loss and Bobby Wahl saved with great performance in the 9th.
Cuba's best man in the game and through out the whole meet was Sancti Spiritus Frederich Cepeda, who went for 3 in 4, and ended with a 533 ave.
The manager of the Cuban team, Victor Mesa, said to be pleased with these encounters and praised the quality of the young squad from USA, which will be a respectful adversary in the tourney to be held in Netherlands from July 13th to 22nd.
Taken from AIN/Translated by Escambray