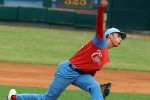 Sancti Spiritus lost the subseries vs. current champions of the Cuban baseball by being defeated in the last encounter 8×2 with great performance of Ciego de Avila's starter Yander Guevara.
Roosters were dominated by Tigers' pitching which had an excellent exponent in Yander Guevara, who worked in 6 2/3 innings, allowing 7 hits and two runs before giving way to lefty reliever Raicel Poll who saved the game and showed good control over Sancti Spiritus' powerful offense.
Locals Frederich Cepeda, Yulieski Gourriel and Eriel Sanchez (3rd, 4th and 5th men in the line up) went for 1-11, as only the former managed to hit a double in the whole game.
Roosters' hurlers were not that effective, including starter Angel Peña who after a great first outing was punished by the champions' offense, which had as best men Jose Ramon Alfonso, Raul Gonzalez and experienced Isaac Martinez.
After losing its first subseries as host, Sancti Spiritus currently holds a 3-3 record while its rivals have 3 victories and 4 deafeats.
Roosters next rival from Wednesday to Friday will be Artemisa Hunters in the 26 de Julio Stadium of that western province.
After two whole subseries in Cuba's 52nd national series the standings goes as follows:
Matanzas (5-1), Isla de la Juventud, Las Tunas and Guantanamo (4-2), Industriales (4-3), Mayabeque, Sancti Spiritus, Cienfuegos, Villa Clara, Camaguey and Granma (3-3), Ciego de Avila (3-4), Pinar del Rio, Artemisa and Santiago de Cuba (2-4) and Holguin (1-5).