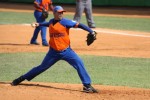 With Ismel Jimenez as protagonist in the box, Sancti Spiritus Roosters debuted successfully in the 52nd Cuban baseball national series, by defeating Tuesday night Cienfuegos Elephants with 5×1 score.
Ismel performed in 8 2/3 innings,  allowing no runs and only 6 hits, while striking out 5 men in a great exhibition of control.
The first part of the encounter turned out to be a tough duel between Sancti Spiritus and Cienfuegos aces, both members of the Cuban team. However, Elephants' lefty Norberto Gonzalez got into trouble in the 5th when Frederich Cepeda brought over home plate the first two.
Reliever Yasmani Inzua handled the situation until the 8th, when experienced Eriel Sanchez (the best hitter of the game with 4-3) hit a 2-run double, and then scored the 5th by Yuniesky Gourriel's single and error of Cienfuegos' catcher Osvaldo Arias.
Elephants' run was produced by solo homer of pinch hitter Juan Miguel Soriano before first timer Yoanni Hernandez, the first of Roosters' relievers. Closer Omar Guardarrama took the last 4 outs before rivals.
Both teams, strong candidates for moving to the next phase, are to play Wednesday and Thursday at night, with TV broadcast.
The rest of the encounters of this first day brought some surprises as Isla de la Juventud beat Villa Clara (3×0), Mayabeque was better than current champion Ciego de Avila (4×3) and Camaguey defeated Artemisa (10×1).
The remaining subseries scores were Industriales-Guantanamo (4×2), Matanzas-Holguin (3×1) and Granma-Santiago de Cuba (4×1).