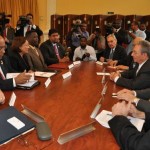 Cuban President Raul Castro leads the island's delegation to attend on Thursday in this capital the 4th summit meeting between Cuba and the eight member countries of the Caribbean Community (CARICOM).
The event aims at exploring areas of collaboration, and is a new opportunity to strengthen cooperation, expand investment and, enhance economic relations between the two sides.
The Cuban statesman carried out on Wednesday an official visit to Trinidad and Tobago, which concluded in the evening with a dinner this country's Head of State George Maxwell Richards gave in his honor.
In a brief speech, Raul Castro described of great moral and educational importance the decision adopted in 1972 by four Caribbean countries of recognizing and establishing diplomatic relations with Cuba.
Raul Castro stated that today marks 40 years of that decision, jointly adopted by Jamaica, Barbados Guyana, and Trinidad and Tobago, in moments when Cuba only maintained diplomatic relations with Mexico, Panama, Chile and Peru, as a consequence of Washington's harassment.
After arriving in Port-of-Spain on Wednesday, Raul Castro held private talks with Richards at the Presidential Palace.
Later, the two statesmen went to the Memorial Park, where the Cuban president laid a wreath at the monument to honor the people of Trinidad and Tobago who fought and died during the World War II, as part of the British armies.
Raul Castro's visit also included a meeting with Prime Minister Kamla Persad-Bissessar. The parties analyzed "deep problems of our relations, but above thinking in the future," the Cuban president said.
The Cuban delegation is also comprised of Minister Council Vice President Ricardo Cabrisas, Foreign Minister Bruno Rodriguez Parrilla, and Rodrigo Malmierca, Minister of Foreign Trade and Foreign Investment. (PL)