By Dayamis Sotolongo Rojas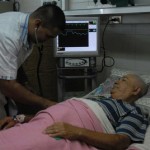 Sancti Spiritus Cardiac Care Unit, located in the Camilo Cienfuegos Provincial Hospital and existing for only a decade in the Cuban central province, continues to grow up.
Sleepless nights have translated into rewards: the number of pacemakers has increased; fatalities due to acute myocardial infarctions have diminished. Sancti Spiritus remains among the most developed Cuban regions in the area.
Because of its credentials, the 12th Scientific Forum "In the Service of Life"-held in the Camilo Cienfuegos Provincial Hospital last November 17th until 19th- has honored the 10th anniversary of the Cardiac Care Unit while counting on renowned cardiology personalities in the island.
Alexander Santos Perez, First Degree Specialist in Cardiology and head of the area in the hospital said to be pleased with the work done so far. More than 5000 patients have been assisted in the ward during the decade, while hospital stay is trying to be reduced. It is also a great encouragement that as for October, infarctions fatalities were below the national average, explained Santos.
Among the most frequent pathologies to be dealt with in the facility, refers Santos, are the acute myocardial infarction, the unstable angina, myocardiopathy, severe arrhythmia, severe valvular disease, and cardiovascular post-surgical complications.
Sancti Spiritus Cardiac Care Unit is equipped with 16 beds distributed from intensive care to basic ones. It counts on echocardiogram and cicloergometer and in need of others diagnose means, patients are sent to Villa Clara's Cardiocentro.