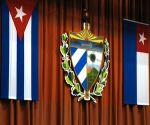 The permanent commissions of the Cuban Parliament conclude discussions on Wednesday on the economic plan and the budget for 2012. According to the Constitutional and Legal Program of the National Assembly of People's Power (Parliament) deputies will analyze the laws approved in the context of updating the economic model of the island.By Pl
In this regard, the working groups will present the projections for next year and discuss issues of interest to citizens, based on the new government initiatives to revive the national economy
One of the commissions that has generated most expectations is that of Economic Affairs, which on Wednesday will provide information on measures related to the expansion and regulation of self-employment in the country.
They will also examine the progress of the process of import substitution and export promotion.
For its part, the Energy and Environment Committee will present the results of several studies to reduce greenhouse gases and their impact on energy efficiency and the reduction of dependence on fossil fuels.
The parliamentarians of the Education Commission will also set out the contributions of science to food security and development of the country, while the Health and Sport commission will submit a proposal on legal regulations governing medical decisions for terminally ill patients. The standing committees and nearly 400 lawmakers began the debates yesterday.
These two discussions days preceded the day designed for reports from institutions on Thursday, and the Eighth Regular Session of the National Assembly will convene on Friday.