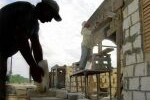 A reduction of 20-30 % in the price of 122 types of construction materials was announced on Wednesday by the First Deputy Minister of Domestic Trade, Odalys Escandell, during a working session of the Services Commission of the Cuban National Assembly (Parliament).By ACN
Escandell said that the measure  "which comes into effect on Thursday, December 22" includes products such as blocks, bricks, ironwork for bathroom fittings, tanks, sinks, wire netting, and tiles.
The official recalled that there are 286 stores across the country where these products can be purchased and that the sales plan for 2011 was only half-fulfilled mainly due to problems in the contracting process.
She added that studies are underway to reduce the price of other items such as second-hand clothes, balls, and imported t-shirts, among others.