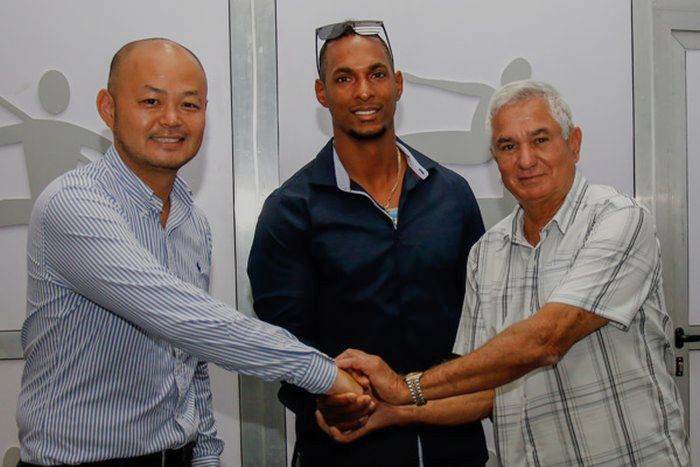 Gracial (C) was part of the Cuban team Alazanes de Granma that recently competed in the Caribbean Baseball Series in Jalisco
Cuban baseball player Yurisbel Gracial signed on Monday in Havana a contract to play with the SoftBank Baseball Team from the Japanese League next season. This is the first time that the team selects four foreign players from a same country.
The Japanese baseball team will have other Cuban players, Alfredo Despaigne, Livan Moinelo and Oscar Luis Colas, reported JIT sports website.
Gracial was part of the Cuban team Alazanes de Granma that recently competed in the Caribbean Baseball Series in the Mexican city of Jalisco.  His debut in international baseball was in the Can-Am League playing with the Quebec Capitals during the last two seasons.
After signing the contract, reported JIT, Gracial thanked the Japanese team for giving him the opportunity to play and expects to contribute as best he can, as did Despaigne, Moinelo and Colas.
Gracial said that he is conscious that the Japanese League has quality and will be an important personal and professional experience. I hope to obtain good results to continue opening the way for other Cuban players to also sign contracts with other teams, he said.
Regarding his performance in Canada, Gracial said it was an important step to improve and hope to contribute to his team of Matanzas and the National team.
Gracial as the other three players is expected to join, as stipulated by both sides, the national pre-selection team prior to the start of the Central American and Caribbean games scheduled for Barranquilla, Colombia July 19th to August 3rd.
The representative of the Japanese city of Fukuoka, Kenta Hagiwara declared open contracts for more Cuban athletes starting from the needs of the team for future seasons.
The legal director for the Cuban Sports Institute Ramiro Dominguez confirmed pending similar steps, but with Dragons, Pitcher from Pinar del Rio, Raidel Martinez and outfielder from Matanzas Ariel Martinez.
The President of the Cuban Baseball Federation, Higinio Velez headed the confirmation of the accord for Cuba, reported JIT.
Taken from http://cubasi.com