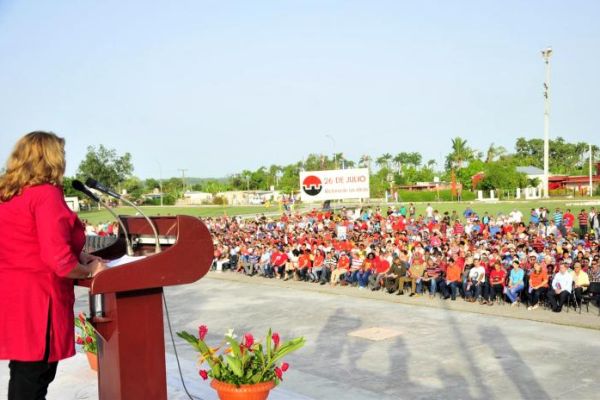 The provincial ceremony on the occasion of the 65th anniversary of the Moncada events was held at the foot of the monument to Camilo Cienfuegos, where Cuban history was paid tribute to
The provincial ceremony to mark the 65th anniversary of the attacks on the Moncada and Carlos Manuel de Céspedes barracks in Santiago de Cuba and Bayamo, respectively, took place this Sunday morning in the Camilo Cienfuegos Historical Complex of Yaguajay, central Cuban province of Sancti Spiritus.
As reported in recent days, the designation on this territory to host this commemoration was a recognition to its achievements in the economic, political and social spheres, and in particular to the great effort made after the passage of Hurricane Irma in order to reduce its consequences.
Yaguajay also excels for its favorable hygienic and epidemiological scenario with more than five years without reports of dengue or zika transmission, a zero infant mortality rate in children under one year, and the best results of the province in the teaching and learning process, among several other outstanding attainments in different sectors.
The ceremony was also presided over by José Ramón Monteagudo Ruiz, member of the Central Committee and former first secretary of the Party in this territory, Teresita Romero, president of the Provincial Assembly of the People's Power, and other local governmental and political leaders.