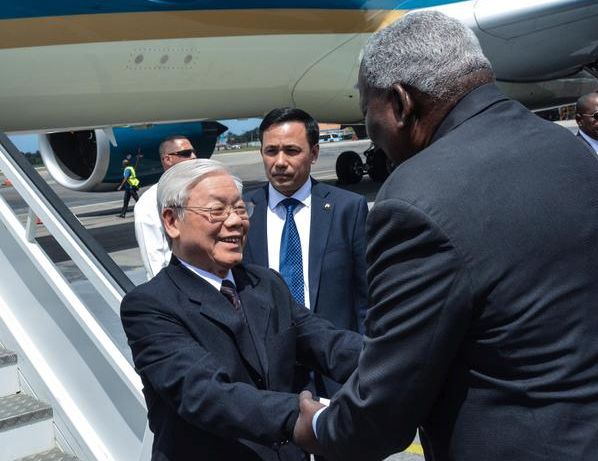 The General Secretary of Vietnam's Communist Party, Nguyen Phu Trong arrived in Cuba this afternoon on an official visit
The distinguished visitor was welcomed in Havana's Jose Martí International Airport by Esteban Lazo Hernández, member of the Cuban Communist Party Political Bureau and President of the National Assembly of the People's Power.
The Foreign Affairs Commission of the Vietnamese Communist Party said that Phu Trong is meeting an invitation by the First Secretary of Cuba's Communist Party Raul Castro with whom the Vietnamese leader is scheduled to meet in Havana, as reported by PL news agency.
Meanwhile the Vietnamese News Agency (VNA) says that the visit by the top Communist official to the island will mark a special occasion to further deepening economic and trade collaboration as well as investment in a more pragmatic and effective manner.
"The relationship of fraternity and solidarity between Vietnam and Cuba boosted by presidents Ho Chi Minh and Fidel Castro has developed in all sectors thus becoming a valuable asset and a source of inspiration for the revolutionary cause of each country," the agency noted.
Members with the Vietnam-Cuba Friendship Association made a phone call to PL news bureau in Hanoi expressing their joy for this new event in the history of bilateral relations.
The on-line site Vietnam Plus stressed that the talks between Phu Trong and Raul Castro will be the first top-level meeting of the two countries after the passing in 2016 of the historic leader of the Cuban Revolution Fidel Castro.
This will also be the first visit by Phu Trong to Latin America following
the 12th Congress of Vietnam's Communist Party.