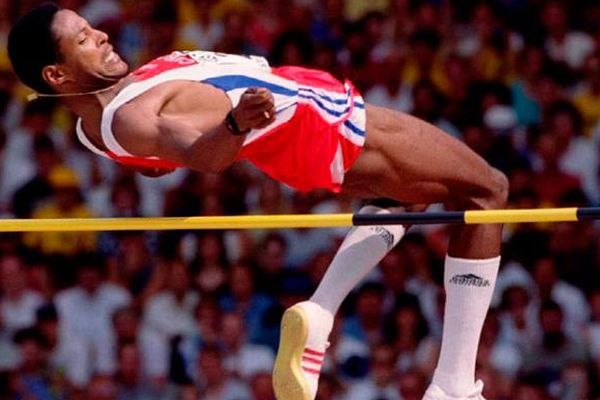 Although there is no title for it and it isn't included in the statistics, Javier also holds another record: he is the human being who has cleared 2.40m more times than anyone else
To simply stand before a bar placed at a height of 2.45 meters is nothing extraordinary. However, to jump over it using nothing more than the take-off power of one's own legs is unprecedented, that is, at least, for all but one man. The only mortal to have flown this high is Cuban, and this 2018 he is celebrating 25 years as high jump world record holder.
This year Javier Sotomayor Sanabria is also celebrating 30 years since his first world record of 2.43m in the Spanish city of Salamanca, September 8, 1988; a record he broke less than a year later, when he soared over the 2.44m mark in San Juan, Puerto Rico, July 29, 1989. Four long years, as he himself told us, were to pass before on the 27th of that same month, and again in Salamanca, he would soar over the 2.45m mark.
We couldn't let the anniversary pass without recalling his feat, one of the greatest of the Cuban sports movement, and one of the most recognized worldwide, maintained throughout time. Sotomayor also set the junior world record in 1984, with a jump of 2.33m, and the Central American and Caribbean Junior record by clearing 2.36m in 1986.
Although there is no title for it and it isn't included in the statistics, Javier also holds another record: he is the human being who has cleared 2.40m more times than anyone else. Since 1912, a total of 63 jumps have been recorded at this height, and 21 of them were by the Cuban athlete from the Matanzas' municipality of Limonar. That is, one in three.
Of these 63 jumps, 46 were outdoor competitions, the rest were on indoor tracks. Sotomayor has the most jumps to his name both indoors and outdoors, 17 and four, respectively. The athlete to have come closest outdoors is Qatar's Mutaz Essa Barshim, with ten jumps at this height or above, followed by Ukraine's Bohdan Bondarenko, with seven. Indoors, the Cuban shares his title with the Russian Iván Ukhov. But only Barshim has managed to reach 2.43m, Sotomayor's first world record, on September 5, 2014.
Five years ago, when we celebrated 25 years of his first world record, and 20 of the existing one, Bondarenko, in the 2013 World Championships, requested the bar be set at 2.46m, in an attempt to knock him off the top spot.
I asked Sotomayor then how he lived with the threat of someone surpassing the 2.45m mark, and he responded: "I haven't lived with it, rather I have relived it, as no one had attempted it for a long time.
"The record was always under threat, especially when I jumped, as back then there were so many others who could make it, and in fact they attempted it several times."
The Ukrainian athlete made three attempts that August, and according to Sotomayor, it was on his second attempt that he came closest. "On that attempt he took-off strong and, although he failed, managed to get higher than ever."
The athlete from Matanzas notes that on one occasion, he lent his shoes to German high jumper Carlo Thranhardt, who cleared 2.42m indoors, and told the judges: "'Since I'm wearing them, put the bar up to 2.46m for me,' and he made three attempts. He was a very combative jumper."
If we were to try to illustrate what it means to soar above 2.45 meters, it would suffice to say that it is the equivalent of clearing eight feet or, as a closer reference, now that football is all the rage, the height of the goal. Which is why every time the anniversary approaches, Soto, an unassuming and modest man who loves sport and is loyal to Matanzas' baseball team, responds in the same way to the question as to whether he ever imagined his record would be so long-standing.
"No, because my opponents were very strong, and they didn't stop trying. Also, from the first day I was convinced that someone would break it at any moment."
Asked how he thinks he will take the news of a jump over 2.45m, he replies: "I'm sure I won't feel great that day, I'm won't enjoy it, that's the truth. But the days will pass by and I will again accept that records are there to be broken. I will always remember it with a lot of pride, because nobody can take that day away from me. It is now that I realize what I did, what a big deal it was. And those are reasons to always remember it with great joy."
Soto attempted to surpass the 2.46m mark on several occasions. He threatened to do so for the first time in Stuttgart, Germany, at the 1993 World Championships. It was in 1994 that he made the most attempts, nine in total. He has confessed that every time he jumped 2.40 meters, he requested the bar be set at 2.46m. We aren't exactly sure when the last time he attempted to break his own record was, although he believes it was in the 1995 Pan American Games, in Mar de Plata, Argentina, and it's most likely, as he cleared 2.40m there.
Another singularity that sets the Matanzas-born champion apart is that since 1912, there have been 22 high jump world record holders, but they are from only six countries: the United States (13), the former USSR (4), Germany (2), China (1), Sweden (1) and Cuba.
At 51 years of age, Soto is still the jovial kid who at the age of 21 began soaring to the highest limits. In no conversation does he fail to mention José Godoy, the coach who taught him to fly, to put his name to the high jump, just as the citizens of Salamanca did at the stadium where 30 years ago he leapt into global sports history.