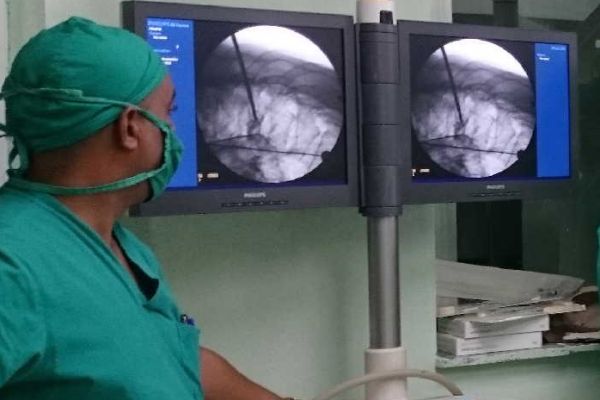 Patients who suffer from osteoporosis and other diseases that lead to fractures in the spinal column benefit from minimally invasive procedures
A surgical technique for the treatment of spontaneous spinal fractures caused by osteoporosis and tumors is now available in the neurosurgery service of the Camilo Cienfuegos General Provincial Hospital of Sancti Spíritus, one of the few institutions outside Havana where the procedure is possible.
The so-called vertebroplasty is carried out thanks to the introduction in the hospital of a radio-transparent table, a first world technology that allows to work along the entire length of the spine with minimal invasive procedures.
According to Dr. Juan Carlos Lage Barroso, a first-degree specialist in neurosurgery, this ambulatory technique is carried out without having to expose the spine, and has been proven to be effective.  In Sancti Spiritus, this type of surgery will favor a high percentage of the population, especially women, added the doctor.
Several local specialists are currently being trained in the practice at Havana's Cira García Central Clinic, a highly qualified medical institution.