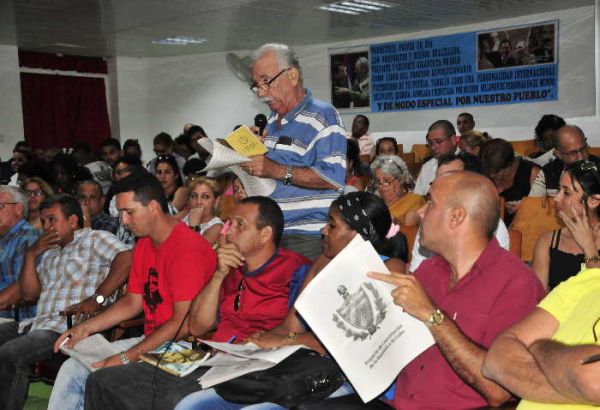 Over 350 000 people have so far attended the debates and the proposals correspond to more than half of the paragraphs contained in the draft document
Only days away from the conclusion of the consultation process, more than 30 000 proposals have been made in Sancti Spiritus, central Cuba, to the Constitution Project, which might enrich the final version of the draft document.
Edelio Torres Hernandez, a member of the Provincial Party Bureau in charge of the Temporary Commission organized for this process, told Escambray that more than 350 000 local residents have so far participated in the meetings summoned in work places, schools and districts. The propositions made correspond to 55 percent of the paragraphs contained in the document, he added.
He noted that the high participation of the people is a manifestation of their confidence to provide criteria that help in shaping our Constitution and democracy when it comes to designing a core document for the development of the nation.
According with the information provided by the source, the greatest interest of the participants has been focused on the office terms and age requirement of the President of the Republic (Articles 121 and 122); marriage as a union arranged between two persons (Article 68); wages (Article 76) and work as a duty, a right and a motive of honor of the persons able to work (Article 31).
On the other hand, people have expressed doubts in relation to the way in which some of the aspirations reflected in the Draft Constitution will be materialized, as well as a great deal of suggestions to modify different aspects of the document, he concluded.