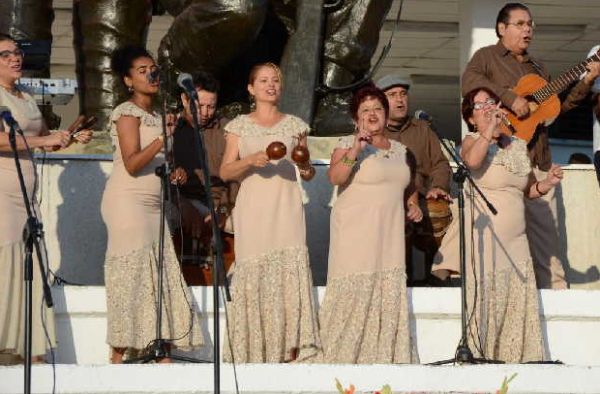 The only survivor of this type of musical format in Cuba and throughout the world maintains its artistic quality, but has been backed into a corner by the hostile ears of postmodernity
The coros de clave were born as supreme chants in Sancti Spíritus around November 1899, when Juan de la Cruz Echemendía founded La Yaya Club —some kind of creative copy of similar groups he had known about in Havana.
This kind of musical group that flourished in the village until the 30s of the last century had Ángel Rafael Gómez Mayea (Teofilito), Miguel Companioni, Alfredo Varona and Rafael Rodríguez among its most popular representatives.
The book La clave y el compás. Historia de una tradición put a sort of magnifying glass on this musical format that, with its ups and downs, imposed itself for more than a century in Sancti Spíritus, the only place in the world where it still survives.
That is why Escambray inquires about how the Coro de Clave has survived; when, where and who listens to its music nowadays; why many consider that it has lost ground; and how to protect this patrimonial institution cornered by the hostile ears of postmodernity.
A MORTGAGED PRESENT?
In the small living room of her apartment in Los Olivos District, Rosa Rodríguez Bello rehearses with her pupils with the persistence of a veteran teacher: "The Juvenile Coro de Clave, about to turn eight years old, emerged because of my concern when I was the director of the professional choir and I saw how many of my colleagues were retiring or passing away. I organized this project as a school to prepare young people who could join the group at a certain moment. Like Juan de la Cruz Echemendía's club, we have tried to become a cultural center whose members are capable of playing different musical genres. We have already joined the Hermanos Saíz Association, and we have had a lot of work and recognition".
But you are also a singer in the old Coro de Clave. Is the group's current situation splendorous, decadent or it is just subsisting?
"The Coro de Clave exists, but there is lack of support. Some people do not understand that a group like this needs motivation, promotion, proper clothes and good instruments. It still exists thanks to its members. There has been an enormous carelessness in the publicity and there has also been lack of organization when programming our shows".
Where and when do you usually perform?
"We do not have a regular program. We have only one show once a month at the Peña de la Fuente in the Colonial Art Museum".
What about outside Sancti Spiritus, as the only traditional group of that kind in Cuba?
"We perform nowhere. The Coro de Clave should be traveling around the world, but to do so there is an investment to be made. We are no longer indigenous, we make the music, but we need a machinery behind for the promotion, we do not have a video clip. Locals don't even know the Coro".
So you consider that today the Coro de Clave is in risk of disappearing?
"It's not in risk because you saw the Juvenile Coro de Clave and there is also a Children's Coro de Clave, but it's been neglected.  This type of group has to be favored for what it represents, it is a cultural treasure that differentiates us from the rest of the world".
One of the most experienced vocalists of the choir, Leticia Ulacias, considers that the environment and the technical performance of the Coro de Clave is very favorable at the moment, however, she misses the times when they were excellently welcomed in important events such as the Pepe Sánchez Festival, the Fiesta del Fuego, and the Romerías de Mayo.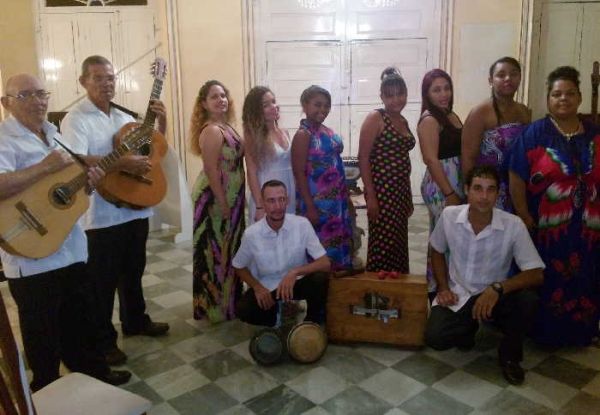 AN INTERROGATIVE FUTURE?
Currently integrated by 14 members, where youth and experience harmonize, this very exclusive choir enriches its work with the incorporation of contemporary compositions and the defense of its identity at any cost. But, obviously, musical quality and grants are not enough to preserve the tradition.
The Commercializing Company of Music and Shows, which has the Coro de Clave registered in its catalog of excellence defends other points of view:
"The Coro has not stopped working, for some time now it has been regularly performing in different shows, and will have a permanent presentation at the Maqueta de la Ciudad the first Saturday of every month.  It is financially supported by the State, which speaks clearly of the importance that the country gives it. It has gone through stages of more and less bonanza. Today it has a good moment from the artistic point of view. I do not think the Coro de Clave  goes through a crisis now", says Carlos Sotolongo, director of that institution.
However, despite these virtues that you extol, all the interviewees think that the Coro de Clave has lost ground both in Sancti Spíritus and in Cuba.
"That is correct, the Coro de Clave doesn't perform elsewhere in Cuba but here, in its natural environment, it has sufficient presentations in events related with its profile and with the tradition it represents. The structure of the group (14 or 15 members), makes it difficult to travel to other places. At the moment we are owed more than one million pesos and that creates a very complicated situation, especially liquidity. If we are not paid, we do not have the money to carry out this type of promotion. It's true that the choir lacks a national projection. It is not a commercial group, we don't sell it, the artists earn a fixed salary for performing a number of activities in the month".
How many presentations is your company supposed to guarantee for the choir? Is that program planning fulfilled?
"Six presentations in the month. That program is fulfilled, and in case there are more activities, they get extra money. When the six-show plan is not fulfilled, they cannot receive the money support, but that has never happened. The Coro de Clave has to fulfill a number of activities and it's completing them so far. If activities are many or just a few I do not know, maybe they could be more".
If the support amount is minimum, if this music is not consumed by young audiences, if there is little promotion in the media, if many consider that music a museum thing, are we not condemning the choir to disappear?
"It's been like this for more than 100 years now and it has not disappeared yet".
Some specialists, however, think differently. Juan Eduardo Bernal, defender of the traditions of Sancti Spiritus, pointed out a few years ago that "it is not possible to guarantee the reception of the choir for a long time if its future recipient is not prepared".
On the other hand, Juan Enrique Rodríguez Valle considers that "we can, or should do more for this group", while young Eliene Fonseca, heritage researcher and one of the authors of the book La clave y el compás …, points out that "trova music, peasant music and the Coro de Clave represent the greatest identity value of this city".