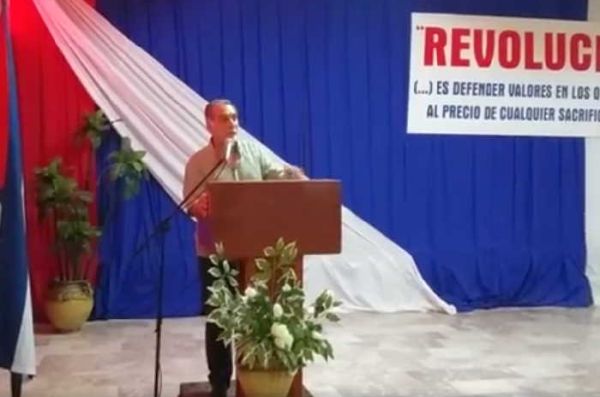 The University of Sancti Spíritus hosted the First National Workshop on the Thought and Work of José Martí and Fidel Castro
The José Martí Cultural Society (SCJM) is the community, said on Thursday in Santi Spiritus, Rene Gonzalez, president of
that institution, adding that working from the communities is a way to honor the Apostle.
The Hero of the Republic of Cuba, sharing with students and professors of the University of Sancti Spíritus during the First National Workshop on the Thought and Work of José Martí and Fidel Castro that is taking place these days, emphasized that the SCJM is much more than a center located in Havana, since it is constantly nourished by the socio-cultural projects it has.
We have to move to recover and gain space, because that is the dialectical way in which to say and do things go hand in hand, in which we can all get involved, as a whole," said Gonzalez, who added that if the SCJM has this capacity to convene, it is precisely because of the name of the National Hero of Cuba.
He commented that thanks to the coordination group for the work with young people, where in addition to the Communist Youth Union and the Marti Youth Movement many other mass organizations are involved, it has been possible to put great ideas into practice.
He added that in Sancti Spirits there are the bases to create a movement of this kind, because no organization can do much on its own, and in integration there is strength if we think beyond.
To continue to aspire to the ideals of justice and truth, he said, we must never be satisfied or tired, but must critically evaluate ourselves and move forward if we want to impact the youth and add people. He said that José Martí should represent both from the age and social point of view the Cuban nation as a whole.
In this sense, he said that they aim to reach all sectors of society,
regardless of whether people are members of the Cultural Society, because the work of the Society can never be limited to those who belong to it.
We recognize the need to guarantee the future of the SCJM and the Homeland through our work with young people in the country and that is why we have always defined our objective, that of planting José Martí in each of our children, he explained.
And that the SCJM resonates in the community and in the neighborhood, said Gonzalez in front of an audience eager to exchange experiences and propose new ideas.
René González paid tribute to the National Hero, and saw off the delegates of this province to the IX Congress of the University Student Federation that will begin tomorrow in Havana.