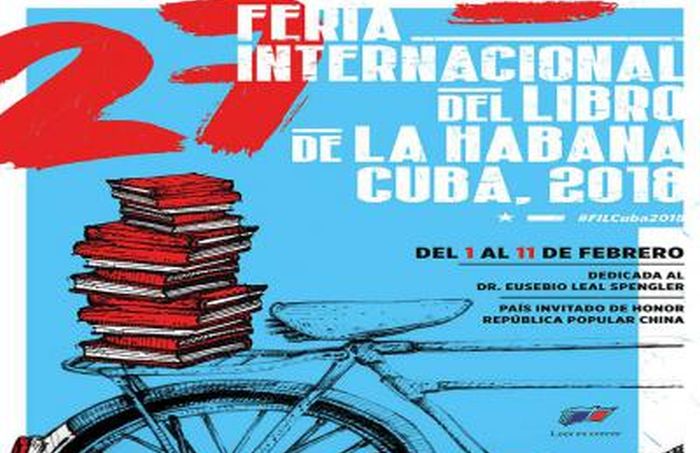 The book event will be held February 1-11 in Havana and will continue until May 13th in the rest of the country
The 27th International Book Fair to be held from February 1st to the 11th in Havana and extended until May 13th in the rest of the country will have the participation of over 40 countries and 400 foreign guests.
The Director of the Cuban Book Chamber, Sonia Almaguer told the press on
Wednesday that there will be 122 exhibitors, 60 Cubans and the rest from 22
countries, among them Peru, Spain and Panama.
She said that the event, dedicated this year to City Historian, Eusebio Leal and China as guest country, will include the Digital Cuba project led by Cuba Literaria Publishing House with the support of other editorials.
The Director of the Literary Program and Vice President of the Book Institute, Edel Morales said that over 400 writers will be on hand at the Morro-Cabana Complex, main venue of the Book Fair and the 22 sub sites will also have important activities like the University of Havana and Pabellon Cuba.
He commented that a colloquium on the environment will be held on February
2nd at the Cuban Association of the United Nations; another on Social Sciences at the Casa del ALBA, on the 2nd and 3rd; and Historians on the 5th and 6th.
Regarding the activity at the University of Havana, professor Mayda Goite informed that on the 3rd they will hold the traditional Science Fair dedicated to children and every afternoon books will be presented at the university.
The Director of the Bolona Publishing House, Mario Cremata said that the editorial has a broad range of activities in honor of Eusebio Leal; they will also have book presentations, tributes and conferences.
The Political Advisor of the Chinese embassy in Cuba Yau Fei said close to 7 million books translated into English and Spanish will be presented and some
written by President Xi Jinping.
He announced that a high level government delegation will be at the book fair to sign important cooperation agreements; in addition to offering a cultural gala at the Alicia Alonso Grand Theater of Havana on February 2nd and 3rd entitled: Happy Chinese Spring Fiesta.
Juan Rodríguez, president of the Organizing Committee and the Cuban Book Institute said that Cuba will present over 600 new books with over 2 thousand samples; and a total of 4 thousand titles with 4 million prints.