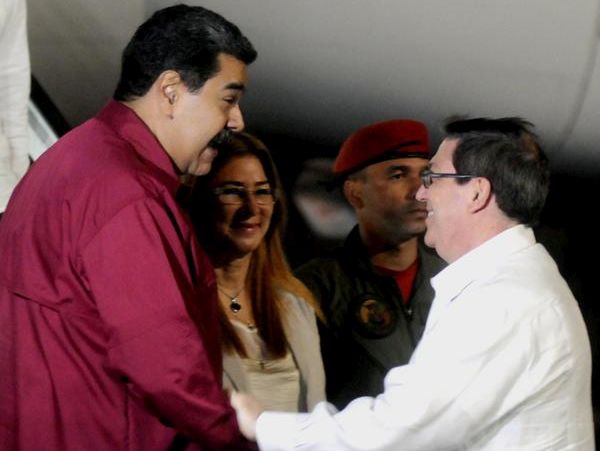 The Venezuelan Head of State arrived in Havana Friday night on an official visit

We come to ratify that we are brothers and sisters and embrace Cuba, said Venezuelan President Nicolas Maduro Moros who arrived to Havana Friday night on an official visit.
In statements to the press at the Jose Marti International Airport, Maduro said that he brings Miguel Diaz-Canel, new President of the Council of States and Ministers a hug of unity and goodwill between the two countries to work together.
Cuba's Foreign Minister Bruno Rodriguez Parrilla, welcomed the Venezuelan Head of State who was accompanied by the First Combatant, Cilia Flores and Foreign Minister Jorge Arreaza.
Maduro's agenda includes a tribute to Cuba's National Hero Jose Marti at Revolution Square Saturday morning and a meeting with Miguel Diaz-Canel, which will be the first public activity of the recently elected President of the Council of State and Ministers.
The Bolivarian and Chavista Head of State pointed out that Miguel Diaz-Canel was very clear in his speech at the 9th Legislature of the National Assembly of the People's Power.  Maduro added that he came to Cuba to ratify the joint plans and contribute to new ideas for integration to have a concrete sense for the peoples regarding the satisfaction of needs and development of science, technology and culture.
In his words to the press, Maduro thanked the Cuban Foreign Minister for his speech in Lima, Peru on occasion of the 8th Summit of the Americas and Cuba's position in the continental meeting.
When Bruno spoke, we all spoke, there was the force, from the dignity, he said.
We come with the absolute security that we will continue together, Cuba and Venezuela and what is ahead is even better, he concluded.
The Venezuelan ambassador Ali Rodriguez Araque and representatives of the diplomatic corps of the South American nation accredited in Cuba were also welcoming the President.
In the complex regional political context and the constant threats against the Bolivarian Revolution, Maduro Moros arrived to Havana for the first meeting with his Cuban counterpart since Diaz-Canel was elected President last Thursday by the 9th Legislature of the National Assembly.
Cuba reiterated at the 9th Summit of the Americas and more recently at the Parliamentary session this past week, the unconditional solidarity of the Venezuelan people with its legitimate Head of State, Nicolas Maduro Moros.
President Nicolas Maduro's new visit to Cuba will allow to follow-up the excellent and fraternal relations between both peoples and governments and continue the cooperation plans that began with Hugo Chavez and the leader of the Revolution, Fidel Castro.