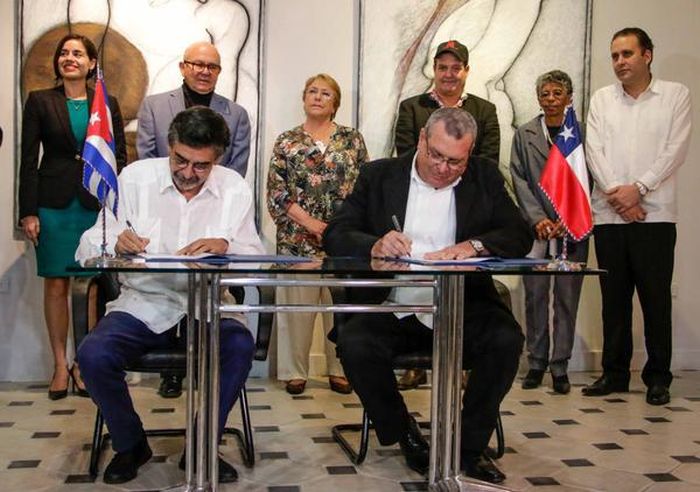 The agreement was signed with the presence of President Michelle Bachelet who arrived in Cuba on Sunday for an official visit of two days

With the presence of Chilean President Michelle Bachelet, representatives of Cuba and the South American nation signed an agreement in this capital on the audiovisual field that will favor the links between the cinematographic institutions of both countries.
On the Chilean side, the document was signed by the ambassador to Cuba, Ricardo Herrera Saldías, while it was done by the counterpart, Roberto Smith De Castro, president of the Cuban Institute of Cinematographic Art and Industry (Icaic).
Speaking to the press, Smith De Castro said the agreement is an old aspiration that seeks to strengthen the work between the film institutions of Chile and Cuba that come from a common history that dates back to 1967, when the international festival of Viña del Mar, in the South American country, was created what would later be known as the movement of the new Latin American cinema.
Viña del Mar's ideas were later picked up at the International Festival of
New Latin American Cinema, which recently celebrated its 39th edition,
recalled the Icaic director.
He said that for over four decades the cinematography of both countries has
had a presence in the other, both in festivals and in shows and presentations, and with the recognition of the people to the most renowned artists and filmmakers.
The agreement emphasizes the cooperation that is expected to grow as it unites the filmmakers in the vision of recovering and conserving the audiovisual heritage, said Smith De Castro.
For the President of Icaic, the document signed between his institution and the National Council of Culture and the Arts of Chile will promote the conservation of heritage, understanding that it includes audiovisuals and joint productions that can be generated, as well as the exhibition of films.
He praised the quality of Chilean cinema that enjoys prestige in Cuba, "that we all admire, want and hope with the agreement is much closer to us," he concluded.
Michelle Bachelet arrived in Cuba this Sunday morning for an official visit of two days and on Monday, she will lay a wreath before the Monument to the National Hero José Martí in the Plaza de la Revolución of the same name and will hold talks at the highest level.