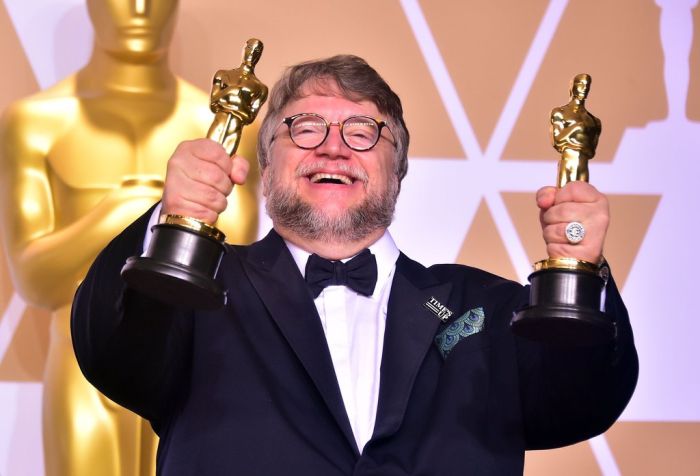 "The Shape of Water" filmmaker Guillermo del Toro became the third Mexican to claim the Best Director trophy at the Academy Award over the last five years.
"I am an immigrant like Alfonso [Cuaron] and Alejandro [González Iñárritu], my compadres," del Toro said in his speech. "Like Gael [Garcia Bernal], like Salma [Hayek] and like many, many of you. And in the last 25 years, I've been living in a country all of our own. Part of it is here, part of it is in Europe, part of it is everywhere.
The director's fantasy film, "The Shape of Water," also took the coveted Best Picture prize as well as additional statues in the Best Production Design and Best Original Score categories at Sunday's ceremony.
"The Shape of Water" earned 13 nominations overall. The film tells the story of a mute woman who falls in love with a strange amphibious creature being held captive at a facility where she works as a janitor. Del Toro described the film, to Reuters, as "fairytales for modern times."
"I think that the greatest thing our art does and our industry does is to erase the lines in the sand. We should continue doing that when the world tells us to make them deeper," he added.
Del Toro is the last of the "three amigos" to collect a best-director trophy. Alfonso Cuarón (2014's "Gravity") and Alejandro González Iñárritu (2015's "Birdman" and 2016's "The Revenant") complete the Mexican trio.
"The place I like to live the most is at Fox Searchlight because, in 2014, they came to listen to a mad pitch with some drawings and the story and a maquette," he continued. "And they believed that a fairy tale about an amphibian god and mute woman done in the style of Douglas Sirk, and a musical and a thriller was a sure bet."
This was del Toro's first nomination in the director's category. He beat out veterans Christopher Nolan ("Dunkirk") and Paul Thomas Anderson ("Phantom Thread"), and newcomers Jordan Peele ("Get Out") and Greta Gerwig ("Lady Bird").
"I want to thank the people that have come with me all the way: Kimmy, Robert, Gary, Wayne and George. And my kids. And I want to say like Jimmy Cagney said once, 'My mother thanks you, my father thanks you, my brothers and sisters thank you. And I thank you, very much,'" he said, wrapping up his acceptance speech.
Leading up to the Oscars, del Toro had won directorial trophies at the Golden Globe, BAFTA and Directors Guild Award for "The Shape of Water."