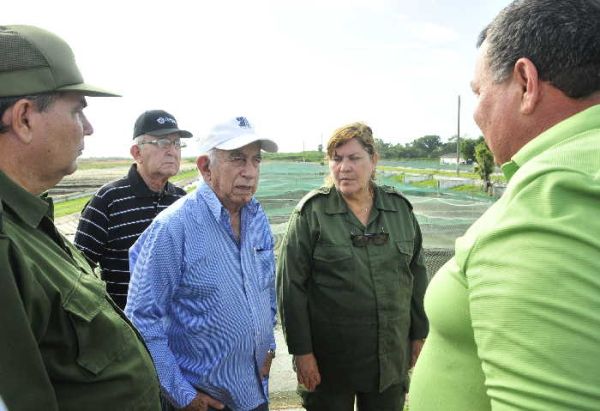 The Second Secretary of the Central Committee of the Party received updated information on the consequences of recent heavy rains in the province
The alternatives implemented to counteract the effects of humidity and avoid major consequences in the production of tobacco, were verified this Wednesday in Sancti Spíritus by José Ramón Machado Ventura, second secretary of the Central Committee of the Party, who also toured other agricultural areas, the Fish-Breeding Station of La Sierpe, as well as facilities of the hydraulic sector.
Accompanied by Ulises Rosales del Toro, vice president of the Council of Ministers, José Ramón Monteagudo Ruiz, first secretary of the Party in Sancti Spíritus and Teresita Romero Rodríguez, president of the Provincial Assembly of the People's Power, the party leader visited the farm owned by Yoandy Rodríguez, in the local municipality of Cabaiguan, to learn about the measures aimed at protecting the tobacco stored in the chambers.
This farmer, considered as the best producer of covered tobacco in Cuba, explained how he uses small amounts of coal to produce heat and dry the tobacco leaves so as to avoid damages during the curing phase.  Machado Ventura acknowledged the validity of this alternative and urged to seek all possible options in order to minimize the effects on this branch, of major interest to the national economy.
In the Zaza dam, whose spillways have been kept open, the top Party leader was offered detailed information on the actions taken in the reservoir during the heavy rains event caused by subtropical storm Alberto. At the same time, he inquired into the use of water in rice cultivation.
As part of the work route, the delegation went to the Fish-Breeding Station of La Sierpe, severely damaged due to a breakdown in the Zaza Dam's channel, which affected the pre-breeding and reproduction areas.
Antonio Olaya, director of the Fishing Company of Sancti Spíritus (Pescaspir) said that there are conditions to recover the reproduction in a month, while the fingerlings breeding could be recovered in three, depending on the repair of the damaged areas.
The group also paid a working visit to La Chorrera Farm, and to the Sur del Jíbaro hydraulic site, which controls the water coming from the three reservoirs of Jatibonico and from the Zaza Dam channel.