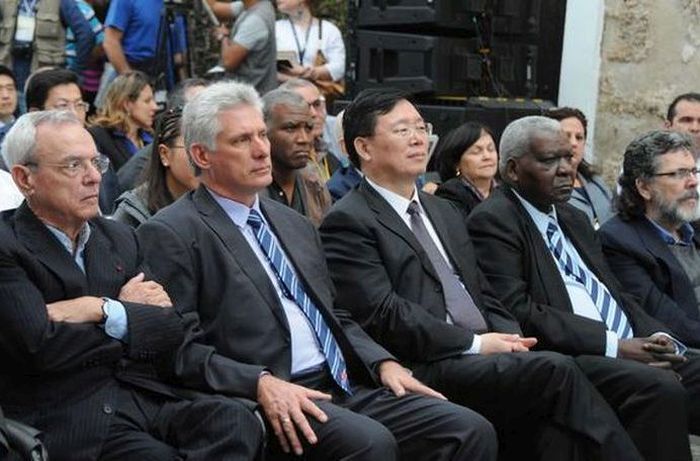 The book event will be later on extended to 15 Cuban cities until its closure in May in Santiago de Cuba
The 27th International Book Fair was inaugurated Thursday afternoon at its usual venue of the San Carlos of La Cabaña fortress, with China as its guest country and Havana Historian Eusebio Leal as the main writer.
In the presence of the members of the Political Bureau of the Central Committee of the Party, Miguel Díaz-Canel Bermúdez and Esteban Lazo Hernández, first vice-president of the Councils of State and Ministers, and president of the National Assembly of Popular Power, respectively, the fair opened its doors.
Juan Rodríguez Cabrera, president of the Cuban Book Institute, said that thanks to the efforts to promote reading in Cuba, more than 600 novelties arrive this year, which complete the nearly four thousand titles available to the Cuban people.
He assured that the event becomes a great cultural occasion due to its wide program, which includes presentations of texts, colloquiums, delivery of national awards, tributes, and artistic galas, among others.
Rodriguez pointed out that 467 guests from 41 nations participate in this event for the approval of the readers, who will be able to attend 22 other branches in the city.
He highlighted the figure of Eusebio Leal Spengler, historian of the city of Havana and to whom this version of the Fair is dedicated, as he is an advocate of national heritage and good books.
He said that the People's Republic of China comes to the Cuban capital with the potential of its millenary culture, while the joint work of both countries to organize the international meeting, will make it possible to have the best of the both peoples.
Díaz-Canel told the press that Cuba celebrates the presence of the People's
Republic of China as the guest of honor.
In its pavilion it brings a wide sample of the Chinese culture and Literature, besides a didactic exhibition of the techniques of more ancient printing techniques until the modernity in that country, he said.
He added that the Asian giant is a brother country, with which the island has historical relationships that have never been broken; and highlighted the Chinese roots in Cuban culture.
Zhou Huilin, vice minister of the general administration of press, publication, radio, film and television of the People's Republic of China and vice national minister of copyright of the Chinese administration, thanked the invitation of the  Cuban government and the Book Institute.
The Havana Book Fair, one of the most important cultural events in the area, will be extended after February 11 to 15 Cuban cities, and will culminate in May in Santiago de Cuba.