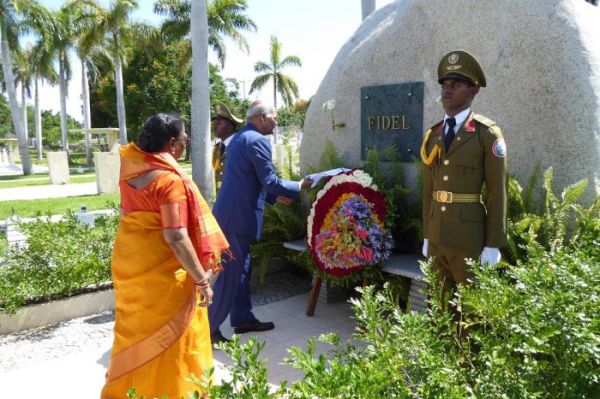 Ram Nath Kovind arrived in Santiago de Cuba Thursday afternoon, where he was received by the president of the Provincial Assembly of People's Power in that eastern Cuban territory
As part of his first official visit to Cuba, Ram Nath Kovind, President of India, will carry out this Friday an intense agenda, which includes the laying of a floral wreath to the monument erected to Mahatma Gandhi, independence leader of the Asian country.
The president will visit the Center for Genetic Engineering and
Biotechnology, pay tribute to the National Hero, José Martí, give a keynote lecture in the Aula Magna of the University of Havana and tour the Historic Center of Old Havana.
He is expected to hold talks with his Cuban counterpart Miguel Díaz-Canel and to participate in the signing of memoranda of understanding in areas such as biotechnology, traditional medicine, medicinal plants and homeopathy.
Kovind arrived yesterday afternoon in Santiago de Cuba, where he was received by Beatriz Johnson Urrutia, member of the Central Committee of the Communist Party of Cuba, vice-president of the State Council and president of the Provincial Assembly of People's Power in that eastern territory.
During his stay in Santiago, he visited the Santa Ifigenia cemetery where he paid tribute to the historical leader of the Cuban Revolution Fidel Castro Ruz.
In front of the monolith that contains the ashes of the Commander in Chief since December 4, 2016, the President of India laid a wreath along with his wife, Savita Kovind.
He also placed flowers in the Mausoleum of the National Hero José Martí and in the tombs of Father Carlos Manuel de Céspedes and the mother of all Cubans Mariana Grajales.
In the guestbook, he highlighted Fidel's role in the Non-Aligned Movement, and praised his friendship with India, which he visited twice.
In his life, Fidel always exemplified the strength, conviction and courage that are present in his memorial, wrote Ram Nath Kovind, who is in Cuba for the first time.