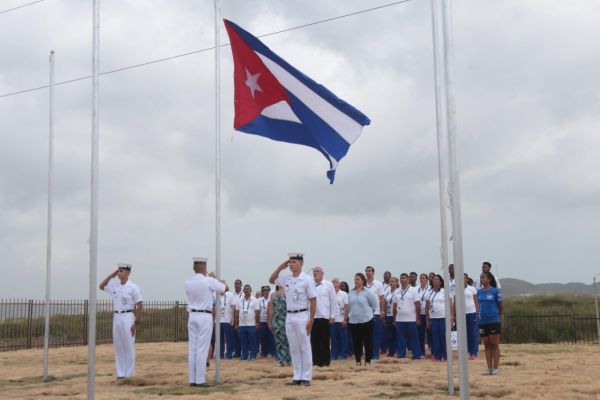 The first group of Cuban athletes is already in Barranquilla, Colombia, and the Cuban flag was the first to be raised in the villa
Several of the members of the Cuban delegation that will attend from next July 19 to August 3 the 23rd Central American and
Caribbean Games of Barranquilla departed last Sunday to that Colombian city.
This first flight includes athletes of 18 sports such as baseball,
taekwondo, shooting, artistic gymnastics, weightlifting, basketball, diving, swimming, field hockey, table tennis, handball, softball and racquetball, in addition to the head of the Cuban delegation, Antonio Becali, president of the National Institute of Sports, Physical Education and Recreation, coaches, medical personnel, statisticians, other specialists and support personnel.
Cuba officially registered 538 athletes who will attend 359 of the 450 events of the Games with the purpose of maintaining the first seat by countries won since the edition of Panama 1970.
In that period, Cubans did not climb to the top of the podium only in San Salvador 2002 and Mayaguez 2010, where they were absent by not being provided safety to their delegation and the treatment guaranteed to the rest of the attendees, respectively.
The Caribbean island will now participate in open water, two events, athletics (36), badminton (6), basketball (2), basketball 3×3 (1), handball (2), baseball (1), boxing (7), canoeing (9), cycling (25), diving (8), equestrian (5), fencing (12) and artistic gymnastics (14), rhythmic gymnastics (8), trampoline gymnastics (2).
It will also compete in field hockey (2), judo (18), karate (10),
weightlifting (20), Greco-Roman wrestling (6), free-style wrestling (12), synchronized swimming (7), swimming (28), roller figure (2) and speed skating (10), modern pentathlon (5), water polo (2), racquetball (6) and rowing (11).
The list is completed with softball (2), taekwondo (16), tennis (7), table tennis (7), shooting (28), archery (5), triathlon (5), sailing (6), volleyball (2) and beach volleyball (2).
Overall, the Cuban delegation is composed of 789 people, with highlight for the 538 athletes and 133 coaches.