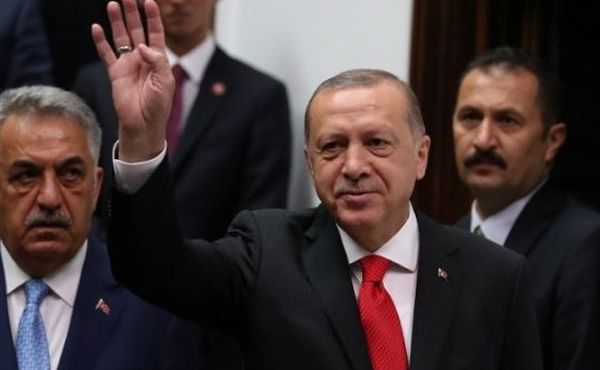 Turkey's Recep Tayyip Erdogan was sworn in as president Monday as the country's political system transitions from parliamentary one to a presidential one
After taking the oath and stressing that he would respect the country's constitution and maintain rule of law and democracy, Erdogan was handed his presidential credentials by Acting Parliament Speaker Durmuş Yılmaz.
Launching the executive presidency which he campaigned hard to secure, Erdogan will also name a streamlined cabinet he says will push for growth to make Turkey one of the world's biggest economies.
Erdogan won a referendum last year to replace Turkey's parliamentary democracy with a presidency, and followed that with a hard-fought election victory last month to the newly strengthened post.
He says the changes, the biggest overhaul of governance since the modern Turkish republic was founded from the ruins of the Ottoman Empire almost a century ago, are needed to drive economic growth and guarantee security.
His supporters see them as just reward for a leader who has championed the pious working classes and built airports, hospitals and schools.
"Turkey is entering a new era with the presidential oath ceremony on Monday," Erdogan told his ruling AK Party at the weekend. "With the power granted to us by the new presidential system, we will get quicker and stronger results."
Erdogan will take the oath of office in parliament at 4:00 p.m. local time before attending a ceremony two hours later at the presidential palace he has constructed in the capital.
Venezuelan President Nicolas Maduro is one of many regional and global leaders attending the swearing-in ceremony. The two countries are looking forward to strengthening bilateral economic and diplomatic ties.
"In Turkey I will be attending important work meetings with investors interested in participating in strategic sectors of our economy. We are going towards a great economic revolution for prosperity and the future," Maduro said in a tweet Sunday ahead of his visit Sunday.
Erdgoan has said he will announce the cabinet on Monday night, promising to make appointments from outside parliament and to slim down his ministerial team to 16 from more than 20.