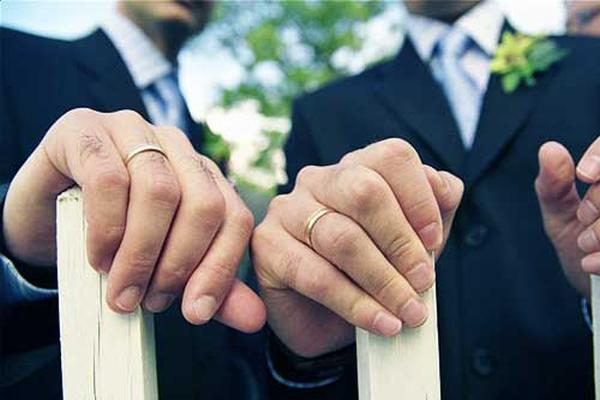 The inclusion of the union between two people as one of the aspects (Article 68) of the Constitutional Reform Project gave rise to fierce debates in Cuba.  On one side are those who defend this position; on the other, those who demonize it
When Alberto * realized —or maybe admitted—that he liked men he had already been married twice, had three children and more than one grandchild. One day he left his home and moved in with Alfredo *. They have lived together for five years without papers or signatures involved, only under the stalking glances of a few neighbors, and by dint of inventing ways to avoid the ups and downs of coexistence.
Life gave Iliana * two mothers, or two aunts, or a mother and a father; it doesn't matter.  Since she was three until now Olga * —her biological mother— and Maida *, her mother's sentimental partner, have raised her together.  They have always been present: when the change of scarf ceremony in primary school, when the scolding due to teenage rebellions, when she had her first boyfriend, when she was admitted to the University …
These are everyday scenes legitimized under penalty of laws and social canons. Today, in the light of the new Constitutional Reform Project where it is proposed to consider marriage as the union between two people, arguments emerge that range from tolerance to inadmissibility.
Taking into consideration the opinions about the abovementioned Article 68, Escambray knocked on several doors to enroll itself in a controversy that has no end point.
SHE+SHE OR HE+HE?
Raising the possibility of marriage between two people of the same sex to a constitutional rank is not a Cuban invention. Before now, more than twenty countries had already legalized gay marriage.
Even nations like India, where the relationship between people of the same sex came to be seen as a crime, have recently decriminalized the law that sanctioned these practices.
According to Article 2 of the Cuban Family Code "marriage is the voluntary union of a man and a woman with a legal attitude to do so in order to live together". It is precisely such a conception which redefines the article that is currently established in the Constitutional Reform Project, postulating it as the union between two people.
After the popular debates carried out throughout the island, Article 68 has unleashed the most diverse opinions. Some consider it as a deserved right, and others as a sacrilege. There are those who wonder if it would be prudent to admit marriage between even three people, while some think it goes against the natural order of mom, dad and child. There are persons who call it a diabolical model being impossible to explain to children …
But it is not now —in the light of the progressive constitutional precepts— that the institution of marriage has been under inquisitorial questioning. It also happened before, when the rule of uniting people according to their lineage was broken, or when blacks and whites began getting married without prejudice.
Luisa Elena Box Naranjo, a judge of the Civil, Administrative, Labor and Economic Chamber of the Provincial People's Court (TPP) in Sancti Spiritus considers that the supreme law seeks to formalize what daily practice has already admitted. "Today the law has a gap because there are social relationships that do not find protection in any regulation and in fact the union between these people is a social association that is happening, what remains is its recognition by official institutions.
"What has been proposed in the draft Constitution is just the acceptance of marriage between equals and, in case the proposal is passed, a legislation will have to be issued in this respect, that is, it will have to be included in the Family Code".
It might be that such recognition comes to reflect a reality that in the Cuban society is both questioning and overwhelming: homoparental families do exist.
Maryla Pérez Bernal, also a judge of the Civil, Administrative, Labor and Economic Chamber of the Provincial People's Court (TPP) in Sancti Spiritus told Escambray that including this issue in the legislation guarantees to take into account these filial ties when seeking participation, social order and the necessary support.
"From the viewpoint of the social responsibility of the State towards the family, and the concept of the family as the fundamental cell of society —added the judge—, you will be able to demand your gay partner the duties that spouses have. Today this is not possible because they are legally nothing. However, with the new legislation, in case of disability of one of the partners the other could be demanded to fulfill the same dynamic of duties expected from a husband and a wife. In fact, gay spouses carry out such duties but voluntarily, with no rights at all, and expecting nothing in return".
GETTING MARRIED TODAY, A GUARANTEE FOR TOMORROW
After eight years of building a home with his partner, the least thing that José Antonio Díaz Gil cares about is the romanticism of signing a paper. But he is concerned over the legal abandonment in which homosexual couples live.
"We live as a married couple, but we are not really married. I would do so only because of the legal right it gives you —there are many who do not want to get married—, and whether it is approved or not, no one is going to prevent people of the same sex from uniting together. What I would eliminate from Article 68 is the line that reads "that spouses are obliged to educate the children", because that is one of the questionings of the people, although several homosexuals are raising kids. In my opinion, if Article 68 is not endorsed then Article 40, which says that everyone has the same rights, cannot be formulated".
But Olga disagrees. In order to live with Maida all these years all she needed was the consent of both of them. "At this point I do not want to get married, and everything here is hers".
According to the jurists interviewed by Escambray, it is assumed that if Article 68 is passed, then the same guarantees provided to the union between a man and a woman would have to be present in gay marriage. This is what Box Naranjo believes: "It would be the matrimonial community of goods, the right to inherit and nothing would limit the right to adoption either".
The raising of children in a homoparental family is the main concern of those who have opposed equal marriage. The arguments said range from the deformation of the behavior of infants to the inoculation of homosexuality from an early age.
The experience of Psychologist Dachelys Valdés Moreno, who works with homoparental families, has shown that even though educating a child in this type of family is a challenge, the stigma of discrimination should not be considered in advance.
YES OR NO?
As recently revealed to this weekly by Edelio Torres Hernández, member of the Provincial Bureau of the Party and in charge of the Temporary Committee for the consultation process of the Constitution Project of the Republic of Cuba, equal marriage has been one of the most debated issues.
Escambray corroborated this reality in the street. Encouraged by a lot of questions, some residents of Sancti Spiritus applauded the recognition of equality among all, while others refused what, in their opinion, constitutes an opening to debauchery.
Taking into consideration the Catholic canon, Juana Julia Lorenzo supports her disagreement: "God created man and woman. Marriage between two men or two women is going against his laws". It is not an isolated criterion, other religious denominations use the same precepts and, have even placed signs on the doors of houses reading: "I am in favor of the original design, the family as God created it".
This issue has transcended creeds or atheisms. It has even sneaked into international public opinion. Interviewed on the subject by the multinational chain Telesur, Miguel Diaz-Canel Bermudez, president of the Councils of State and Ministers, said: "I agree. I think, above all, that the approach to recognize marriage between people, without limitations, corresponds to a problem of eliminating any type of discrimination in society".
Due to the importance of the issue, Box Naranjo agrees that it should not be seen as a topic of personal transcendence. She thinks it should be everyone's interest that all types of social relationships having a certain entity are regulated and have due protection.
While the opinions are divided in favor or against, while the uncertainty of whether the article is approved or not hangs over one another… the reality weighs in, unstoppable. Everyone knows it well: the tolerance gained in so many years has been possible at the risk of stigma, prejudice and discrimination.
And nothing will upset Alberto's routine: get up at six, put the coffee maker and then bring Alfredo a cup of coffee to bed. He will also continue wearing the ring in his right hand, which he was given as an engagement when they both decided to get together.
*Out of respect to their privacy, Escambray protected the identity of some interviewees.