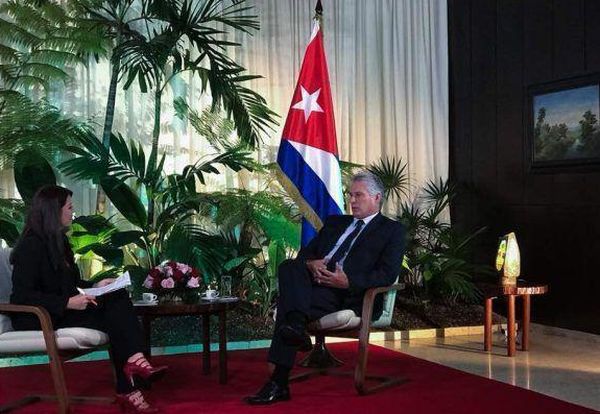 In his first interview with a press media after being elected as the President of Cuba, Miguel Díaz-Canel addressed transcendental national and international issues in Telesur
Commenting his first four months in office, Cuban President Miguel Mario Diaz-Canel Bermudez told in an exclusive interview with teleSUR that the U.S. blockade definitely still consisted in the main obstacle for the island's social and economic development.
"It has become even more difficult, there is also a constant financial persecution because there are difficulties for the flow of money and investment, something that has been planned from the U.S. government — a blockade that is already 60 years old, he told teleSUR's president Patricia Villegas. "It's a brutal practice, I would say that it is an inhumane practice against a people condemned to die of hunger or to die of necessity."
Responding to the recurrent criticism that the Cuban government was "obsessed" with the blockade, he said that the obsession was really Washington's. "We want to live in the normal conditions of a country, we are not a threat to anyone, all we want is social justice and to build a better world."
As for the policies implemented so far, Diaz-Canel highlighted they were inspired by Raul Castro's speech, with "for the people by the people" as a motto, in other words, "a government for the revolution."
"We set ourselves pillars of action: first, that not just through example, our leaders need to have the capacity and attitude to respond for their actions to the people. Then, there's must be a link through permanent debate and dialogue with the people, and for us to be in the places where the most complex issues are. Also, the leaders must be able to use social communication as a fundamental weapon."
Regarding the media, he admitted there had been "cases of too much praise:" "We haven't been able to reflect certain topics from the public agenda and we still have to find that connection between the public agenda and the media agenda."
"I think it's necessary for the revolution to be able to communicate with the younger people in Cuban society," he added, recalling his past as a youth leader and as a minister of Higher Education. "Fidel (Castro) strongly believed in (connecting with the youth), he went to universities when he wanted to discuss a problem," he said, recalling famous encounters at the Cadenas Plaza at the Havana University during the first years of the revolution.
In April, the Cuban National Assembly elected Miguel Mario Diaz-Canel Bermudez, a 57-year-old Cuban born two years after the island's socialist revolution, as the country's new head of the Council of State and therefore the president of the Caribbean country, succeeding Raul Castro.