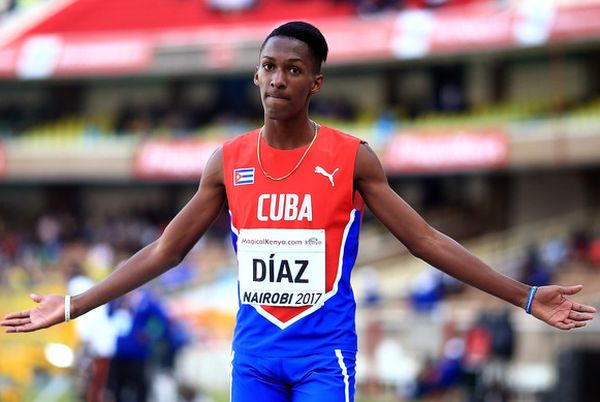 The Cuban triple jumper was elected as such by the North American, Central American and Caribbean Athletics Confederation (NACAC)
Cuban triple jumper Jordan Diaz was named NACAC
(North American, Central American and Caribbean Athletics Confederation) junior athlete of the year.
Champion of the U20 World Junior Championship in Tampere, Finland, and the Youth Olympic Games in Buenos Aires, Argentina, in addition to set the national junior record with 17.41 meters, the young Cuban man confirmed the criteria that mention him as one of the greatest talents of this event.
Diaz, who had won the scepter in the 2017 U18 World Championships of Nairobi, Kenya, completed his current campaign with the silver medal in the Central American and Caribbean Games of Barranquilla, and more than 10 jumps
over 17 meters.
According to NACAC website, Jamaican sprinter Briana Williams, winner of the 100 and 200 meters events in Tampere, was chosen as queen among girls.
Williams, who was only 16 at the time, became the youngest athlete to win a sprint double at the IAAF World U20 Championships.
The distinctions among senior athletes went to Jamaican discus thrower Fredrick Dacres and Bahamian sprinter Shaunae Miller-Uibo, both winners of the final of the Diamond League in Brussels, the Commonwealth Games and the Continental Cup of Ostrava.
Dacres also won the Diamond League stops of Rome, Stockholm and Paris, and threw beyond 68 metres in nine competitions, set a national record of 69.67m and won the NACAC Championships also setting a record for that tournament; while Miller was undefeated throughout the year and scored three times in
the season the fastest records in the women´s 400 meters event since 2006.