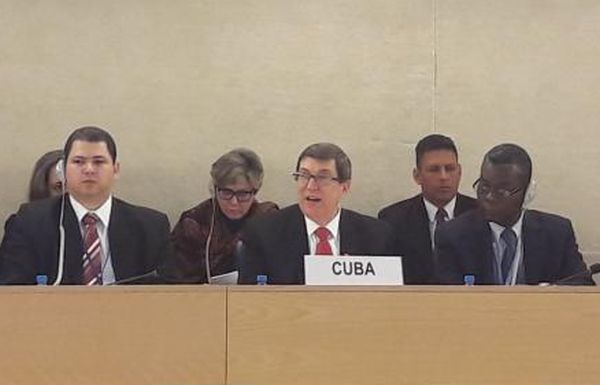 The Cuban report at the Human Rights Council took into account the recommendations accepted at the second event of that kind in 2013
Cuba will keep working to improve its economic and social model, said foreign minister Bruno Rodriguez as he submitted the
island's report in Geneva at the Human Rights Council Universal Periodical Review.
Rodriguez said that Cuba aims at building a sovereign, independent, socialist, democratic, prosperous and sustainable nation through the strengthening of the Cuban political system's institutional order, which is genuinely participatory based on full people's support.
A report by PL news agency explains that minister Rodriguez said that the protection of the right to life has kept a priority as he went on to mention concrete elements such the absence of sale or traffic of fire weapons, while the homicide rate is very low and this makes Cuba one of the safest countries in the world.
The top government Cuban official said that his country continues to strengthen the people's participation in governmental decision-taking processes and their exercise of the freedom recognized by the Cuban constitution and its laws, including the civil and political rights, which are fully protected.
The nation enjoys wide plurality of ideas, there is rich debater about the most diverse issues of current political, economic, social and cultural life, said Rodriguez as cited by PL.
The foreign minister also referred to other issues like the promotion of the right to full equality and the fight against all types of discrimination and noted that Cuban civil society continues to consolidate as an ever-increasingly important factor in the national scene, with over 1 200 organizations.
The Cuban report at the Human Rights Council is the result of the
implementation of recommendations accepted at the second event of that kind in 2013.