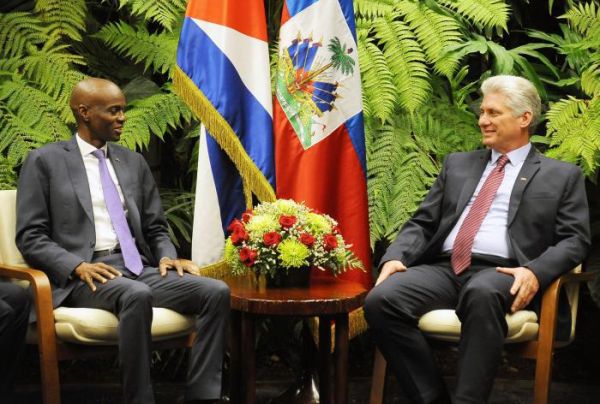 His Excellency Mr. Jovenel Moïse started an official visit to the island on Monday

The President of Cuba's Councils of State and Ministers, Miguel Díaz-Canel Bermúdez, yesterday received the President of the Republic of Haiti, His Excellency Mr. Jovenel Moïse, on an official visit to Cuba.
In a cordial atmosphere, the two leaders reviewed the progress of the positive bilateral relations shared by their countries, highlighting the importance of the 20 years of uninterrupted cooperation, which began on December 4, 1998, and agreeing to continue developing these ties for the benefit of the two peoples. They also discussed various topics on the international agenda.
Accompanying the distinguished visitor were Bocchit Edmond, minister of Foreign Affairs and Cults; Grèta Clement Roy, minister of Public Health and Population; Ardouin Zepherin, special adviser; Lesly David, ambassador of Haiti in Venezuela; Jude Piquant, director of the Office of the Minister of Foreign Affairs and Cults; Guito Edouard, head of the Potable Water and Sanitation Directorate; and Elvire Beauchard, interim chargé d'affaires at the Haitian Embassy in Cuba.
On the Cuban side, participating were Foreign Minister Bruno Rodríguez Parrilla; Rodrigo Malmierca Díaz and José Ángel Portal Miranda, ministers of Foreign Trade and Foreign Investment and Public Health, respectively; Deputy Minister of Foreign Affairs, Rogelio Sierra Díaz, and the Ambassador of Cuba in Haiti, Luis Castillo Campos.