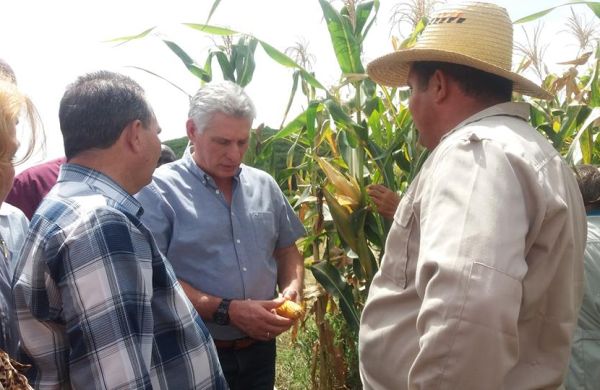 After having attended the 39th Ordinary Meeting of the Conference of Heads of Government of the Caribbean Community (CARICOM), Miguel Díaz-Canel Bermúdez began a working visit to the province of Sancti Spíritus on Friday afternoon
The leader began his tour in the municipality of Cabaiguán, specifically in the farm ran by Yoandy Rodríguez, an unsufructuary of the Nieves Morejon Cooperative.
During an exchange with the emblematic producer, Díaz-Canel was interested in the damages caused by the las May heavy rains and, especially, by the way in which the farmers have been dealing with the excess of humidity in the tobacco leaves kept in the cure houses.
The Cuban President is being accompanied by Deivy Pérez Martín, recently elected as fisrt secretary of the Provincial Committee of the Party in Sancti Spiritus; José Ramón Monteagudo Ruiz, former head of the Party in the territory, and Teresita Romero Rodríguez, president of the Provincial Assembly of the People's Party.
Cuba First Vice President Salvador Valdés Mesa is also touring several production and service centers of the territory.