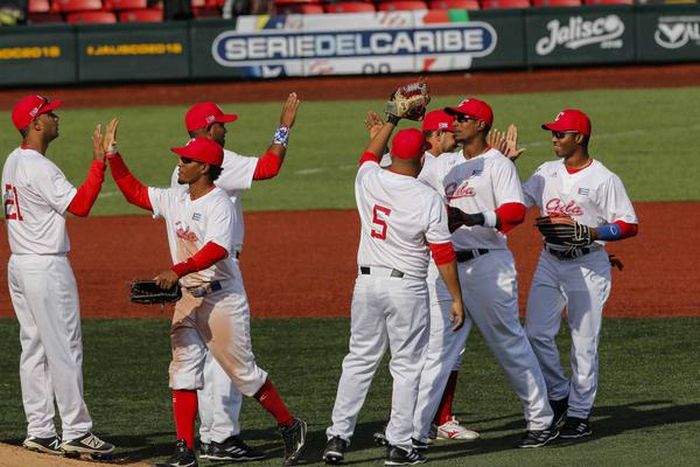 The Caribbean Series began Friday, with games between Cuba and Venezuela during the afternoon and a Mexico-Puerto Rico matchup in the nightcap
The Cuban team, seeking its first Caribbean Series title since 2015, defeated Venezuela, 6-4, in the first game of the Caribbean Series on Friday.
Cuba center fielder Roel Santos led off the bottom of the first with a single, advanced to third on an error and scored on a single by shortstop Yordan Manduley to give his team an early 1-0 lead. Manduley scored on a double by the next batter, right fielder Yurisbel Gracial, to put the Cuban team up, 2-0, three batters into the game.
Baltimore's Luis Sardinas scored Venezuela's first run in the third inning, and designated hitter Luis Jimenez tied the score at 2 with a solo home run to right field.
Cuba scored again, this time on a sacrifice fly by Gracial that scored third baseman Raul Gonzalez in the fifth. Santos and Manduley each scored in the seventh inning to extend Cuba's lead to 5-2.
Venezuela scored a run in the eighth on an RBI single by Balbino Fuenmayor, who signed a Minor League deal with the Nationals last month, and another run in the ninth, but Raidel Martinez struck out Jimenez with the bases loaded to end the game.
Venezuela will play the Dominican Republic's Aguilas Cibaenas on Saturday afternoon followed by Cuba against Mexico on Saturday night.
The game Saturday will be the first for the Aguilas in this year's tournament. Overall, the club has won five Caribbean Series titles (1997, '98, 2001, '03 and '07). A team from the Dominican Republic has won the most championships with 19.
The Cuban team racked up 12 hits in the victory and was led by Gracial, who finished 2-for-3 with three RBIs. The outfielder set the tone for the offense early in the first inning.
Taken from https://www.mlb.com