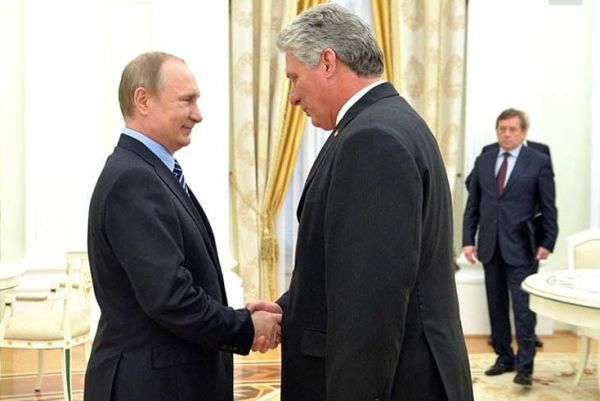 The President of the Russian Federation, Vladimir Putin, received this Friday morning the Cuban president Miguel Diaz-Canel, who is in Russia on a three-day official visit
According to press reports from Moscow, Diaz-Canel has invited his Russian counterpart Vladimir Putin to Havana next year on an official visit.
The Cuban leader stressed that Putin's visit to the country four years ago "was an important milestone and a new step in the development of bilateral relations. Bearing in mind the great importance of his visit, we would like to invite him back to Cuba in 2019, five years from that moment," he said.
Diaz-Canel gave a "fraternal greeting" to Putin from the First Secretary of the Cuban Communist Party Raul Castro and stressed the great importance of his visit to Moscow, because it reflects the continuity of relations between Cuba and Russia.
Putin, for his part, has proposed to his Cuban counterpart to address economic cooperation, in addition to other issues. The Russian president has stressed that trade between the two countries went up 17% last year.
Putin added that relations between Russia and Cuba "were originally marked by a special strategic nature", stressing that Moscow and Havana "are united by friendship, mutual support and aid". He has also asked Diaz-Canel "to express his best wishes and cordial greetings to comrade Raul Castro.
The Cuban president arrived in the Russian capital this Thursday and his visit is expected to last until November 3. This Friday, the president has met with Putin to discuss bilateral cooperation in different spheres and exchange views on regional and global problems.