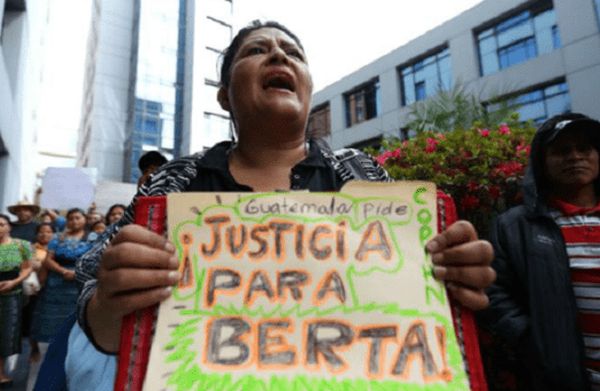 The trial for the accused in Berta Caceres murder resumed Tuesday without the presence of the lawyer for the victim's family
Berta Caceres, an indigenous Lenca and the winner of the prestigious Goldman environmental prize, fought for years against the construction of the Agua Zarca hydroelectric plant on the Gualcarque River, a project led by Desarrollos Energéticos SA (DESA).
She opposed the project condemning the environmental damage and other negative effects on the local Lenca people. Caceres was assassinated on March 2, 2016, in La Esperanza in western Honduras. Gustavo Castro, a Mexican environmentalist, was also shot in the attack but survived by "playing dead."
The accused in the case are Emerson Duarte Meza, Edilson Atilio Duarte Meza, Elvin Heriberto Rapalo Orellana, Henry Javier Hernandez, Oscar Aroldo Torres Velasquez, Mariano Diaz Chavez, Douglas Geovanny Bustillo, and Sergio Ramon Rodriguez Orellana. Some are former employees of the DESA company, in charge of constructing the hydroelectric dam while others are military officers.
The spokesman for the Judiciary in Tegucigalpa, Melvin Duarte, told EFE that the trial of eight men accused of her murder resumed around 10.00 a.m. local time.
After four postponements due to the challenges of the sentencing court, the trial finally began Saturday without the presence of the private lawyers of the Berta Cáceres family.
Berta Zúñiga Caceres, daughter of the activist said Wednesday that the court has illegally ousted the family's lawyers.
"#Alert the court has removed our lawyers and left us without representation for the trial of those accused of murdering my mother #BertaCaceres. What worse trial could we have? #IllegalTrial: I feel devastated," she tweeted.
The Spanish deputy Pedro Arrojo said Monday that he expects the trial for the murder of Berta Cáceres "be fair" and will led to the arrest of the masterminds so that the real culprits do not go unpunished.