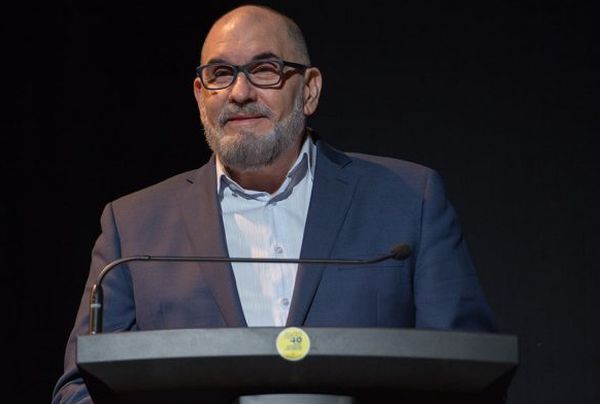 The film festival was officially inaugurated Thursday night in Havana's Karl Marx Theater with a concert of Haydée Milanés

"I would like to express my gratitude to you, to Cuba and its artists for your friendship and collaboration over the years", said renowned American filmmaker Robert Redford in a message he sent to the International Festival of New Latin American Cinema.
Redford's words, in gratitude for the award of an Coral Honor to the Sundance Institute, the educational center for young filmmakers that he founded and presides over, were projected in a video at the opening gala of the annual meeting with Latin American movie industry, which reaches its 40th edition in 2018.
The deserved recognition of the 30 years of support of this institution to the Havana Film Festival, was collected in the name of the famous actor and director, by the director and founder of the program of feature films of the Institute, Michelle Satter and Paul Federbush, director of its fiction program.
Another emotional moment of the night was the presentation of a second Coral de Honor, this time to Mexican producer Bertha Navarro (El laberinto del fauno and La delgada línea amarilla), who expressed upon receiving the award that Cuba had marked all of her youth and that the festival was very dear and endearing to her.
Likewise, Adrián Solar, president of the Ibero-American Federation of Film and Audiovisual Producers (FIPCA) and of the Platinum Awards of Ibero-American Cinema, gave the event a special recognition for its work in the promotion, dedication and diffusion of the region's cinema during its 40 years of existence.
As an honor for them, he described the awarding of this prize to the president of the Festival Iván Giroud and expressed before the audience the desire to carry out one day, in this city, the gala of delivery of the itinerant Platinum Prizes.
The opening ceremony opened curtains with the melodious voice of Cuban singer-songwriter Haydee Milanés, who gave the audience a beautiful selection of themes from Latin American songs such as Gracias a la vida, by Mercedes Sosa; Yo vengo a ofrecer mi corazón, by Fito Páez; Mi unicornio azul, by Silvio Rodríguez, and Yolanda, by her father Pablo Milanés.
The evening concluded with the screening of El Pepe, una vida suprema, by Serbian director Emir Kusturika, a documentary about former Uruguayan president José "Pepe" Mujica.