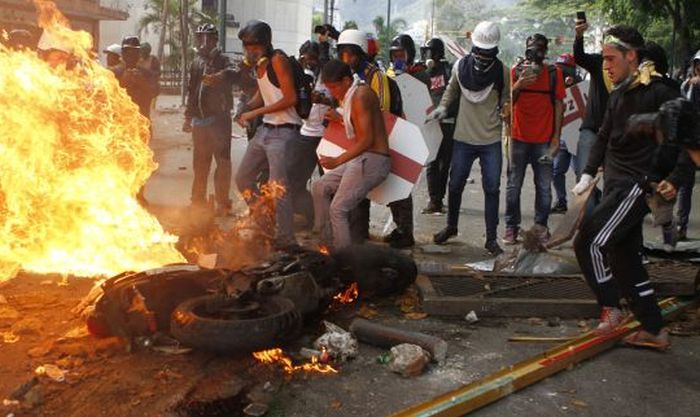 Edy Alejandro Teran Aguilar, 23, was shot in the chest and was pronounced dead upon his arrival at the local hospital
The Venezuelan Attorney General's Office has opened investigations into the death of Edy Alejandro Teran Aguilar, a 23-year-old who was killed at a protest in the city of Valera on Saturday night.
During the rally, armed gunmen opened fire on demonstrators in the El Murachi neighborhood. Teran was shot in the chest and was pronounced dead upon his arrival at a local hospital.
Also, a 50-year-old woman suffered a fractured left femur and an 18-year-old male suffered abdominal and cranioencephalic trauma during the foray of bullets. Both were transported to a local health center for treatment.
Jose Luis Molina, the public prosecutor of the western Trujillo state has been tasked with conducting the investigation into Teran Aguilar's death. He plans to coordinate with officials from the Scientific, Penal and Criminal Investigations department to determine who committed the murder.
For the past 50 days Venezuela has been embroiled in protests, some of which have turned violent. To help bring about a peaceful solution, President Nicolas Maduro has called for a constituent assembly.
Venezuelan Foreign Minister, Delcy Rodriguez, reiterated the call for peace. Speaking at a community event on Saturday she said that the constituent assembly "is a choice for all Venezuelans who oppose violence, want peace for our children and want to defend the sovereignty of Venezuela against interventionist agents."
Venezuela's constituent assembly has received support from the National Electoral Council, oil union workers, sports promoters and other key sectors of Venezuela society.
Although 17 opposition parties have agreed to discuss the terms of a serious national dialogue with the government, right-wing groups aligned with the Democratic Unity roundtable have refused to cooperate with the negotiations.
Taken from http://www.telesurtv.net/english/