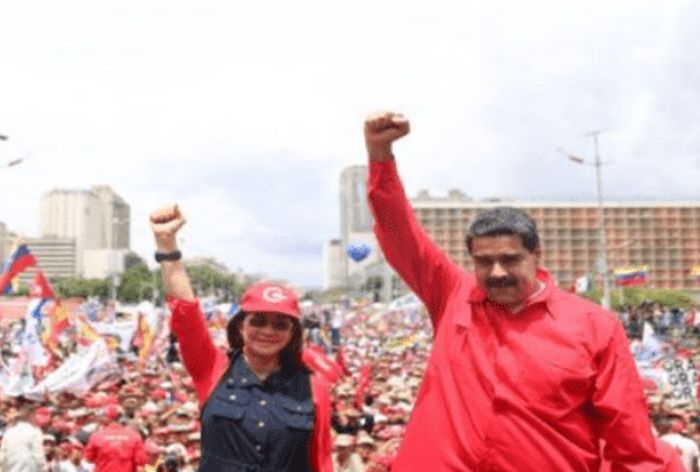 Electoral campaigning for the Assembly's candidates has drawn to a close at a rally attended by thousands of people in Caracas
Venezuela President Nicolas Maduro has proposed holding round table peace talks with the opposition before the National Constituent Assembly vote on July 30.
Electoral campaigning for the Assembly's candidates has drawn to a close at a rally attended by tens of thousands of people in Caracas.
Addressing the crowds, Maduro said "I want peace, reunification and national dialogue".
"Do you want to give a lesson to these violent people? On Sunday the 30, you have to go out and vote in peace for the National Constituent Assembly," he added.
Maduro also said he would be setting up a Truth, Justice and Reparation for Victims Commission.
He then went on to criticize the U.S. President Donald Trump, as well as his Colombian and Mexican counterparts, Juan Manuel Santos and Enrique Pena Nieto for speaking out against the Constituent Assembly election.
"What do we do? Who do we answer to?" Maduro asked Venezuelans on the streets. "The people," answered the crowd.
Maduro said the polls are a vote against imperialism and against Trump, following the announcement of U.S. sanctions on 13 Venezuelan senior officials.
"On Sunday we will choose between a free country or a dominated colony," he said.
Hundreds of candidates have been giving their final speeches outlining their proposals for the constituent body which will rewrite the country's constitution following the vote.
Almost 20 million Venezuelans are expected to choose from 6,120 candidates representing diverse sectors and territories of society for the 545-member assembly.
Meanwhile, some sections of the opposition are calling for a boycott of the election and continue to reject Maduro's offers of dialogue.
Opposition-led protests aimed at toppling the Bolivarian government began in early April.
More than 100 people have been killed and around 1,200 others have been injured.
The right-wing MUD coalition has called for a week of action in the run up to the vote to disrupt the electoral process.
But the latest 48 hour strike failed to bring the country to a standstill and most people went to work as normal.
Taken from http://www.telesurtv.net/english