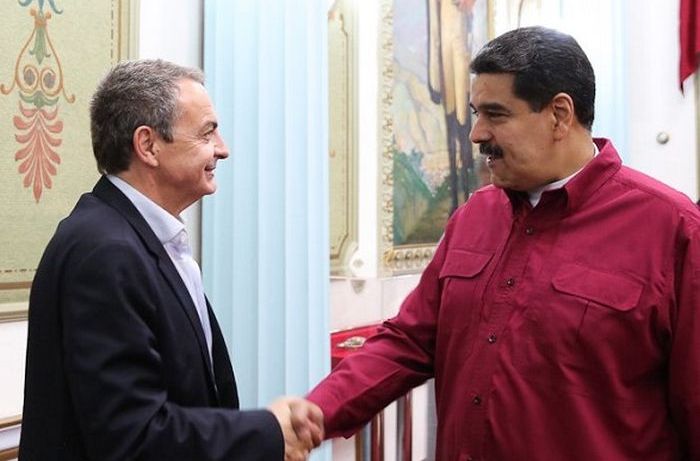 Leaders of the Venezuela government travelled to the Dominican Republic hoping to resume the dialogue first started on September
Members of the Venezuelan government left for the Dominican Republic with hopes of resuming dialogue with the right-wing opposition, even though some of its members have said they will not attend.
Venezuelan President Nicolas Maduro met on Wednesday night with the former Prime Minister of Spain Jose Luis Rodriguez Zapatero, one of the main mediators of the talks, along with Dominican President Danilo Medina.
Maduro said Zapatero goal in the dialogue process is to achieve peace and understanding with the opposition. The meeting was held at the Miraflores Palace in Caracas, to address the next steps in the process.
"With his visit, former President Jose Luis Rodríguez Zapatero confirmed the commitment of the Bolivarian government to the dialogue, to achieving the peace that the Venezuelan people want," Maduro added on Twitter.
Jorge Rodriguez, head of the government delegation, Delcy Rodriguez, president of the National Constituent Assembly, and Cilia Flores constituent member also took part in the meeting.
The government and the opposition created a commission made up of Bolivia, Chile, Mexico, and Nicaragua to follow up on the agreements that were reached in the first round of talks on the Caribbean island on Sept. 13-14.
The talks have since been stalled by the opposition, which is in disarray following its losses in recent regional elections. The country is also preparing for municipal elections to be held in December.
Maduro has consistently called for dialogue with the opposition, initiating talks brokered by Pope Francis and Unasur. However, only factions within the right-wing Democratic Unity Roundtable coalition have accepted the invitation to sit with government officials.
Taken from https://www.telesurtv.net/english