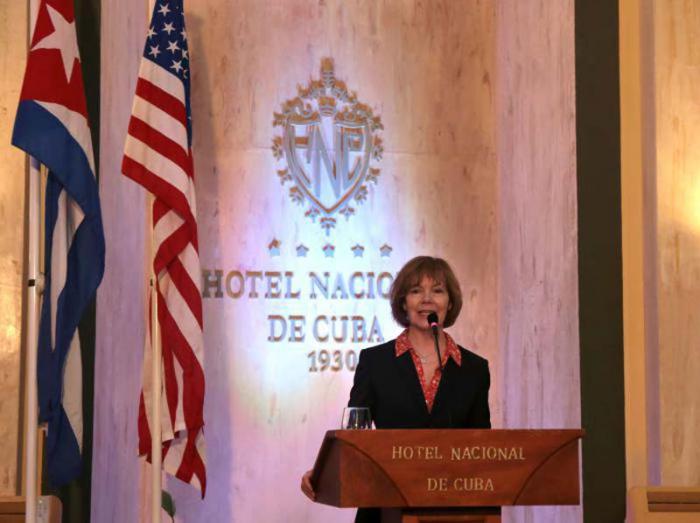 Tina Smith reiterated the commitment in supporting the process of normalization of relations between Cuba and the USA
Minnesota's Vice Governor Tina Smith said in Havana that she favors the development of US-Cuba relations and
opposes the new policy against the island
During a press conference at the Hotel Nacional, the US politician
reiterated the commitment in supporting the process of normalization of relations between both countries whose progress suffered a setback by the recent announcement of President Donald Trump.
There is no doubt that Trump's announcement is a setback, she said, and expressed optimism in continuing to explore opportunities for cooperation in the agricultural, education, health and culture sectors.
Smith, who arrived to Havana last Monday heading a delegation from her state said that they will look for a way for other groups from Minnesota to come to Cuba and vice versa to continue the exchanges in areas of common interest.
The Deputy Governor said that the message she will take back to Minnesota will be that there are still opportunities to continue cooperation.
She expressed concern that Trump's new policy can generate uncertainties among the people in the US regarding traveling to the island and the US business sector, mainly in the tourism area.
Among the points of the Presidential directive issued by Trump is the prohibition of economic, commercial and financial transactions between US companies and Cuban firms linked with the Armed Forces and Intelligence and security services.
During her first day in Cuba, Smith met with representatives of the Ministries of Agriculture and Foreign Affairs and government authorities from the province of Mayabeque; in addition to visiting agricultural cooperatives, markets and the Animal Science Institute.
Regarding the outcome of these exchanges, the Vice Governor highlighted the "spirit of respect and mutual cooperation", and affirmed that she will return "with much respect for the Cuban people, for their great cultural heritage and tireless spirit".
She insisted in Minnesota's agricultural potential, State that is Cuba's "natural partner", taking into account that the Caribbean island's main sector has an essential role.
Located in the northern central part of the US, Minnesota is the 4th largest exporting state of agricultural products in the country and is distinguished or its animal stock in addition to soy and corn cultivation.