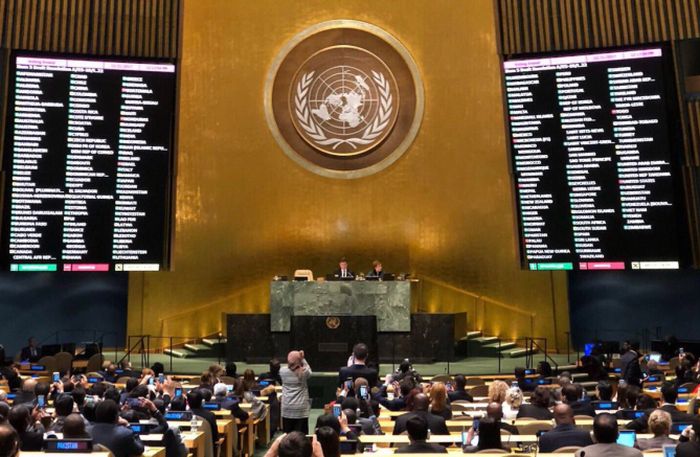 The United Nations General Assembly has voted on a resolution that revokes U.S. President Donald Trump's inflammatory decision to recognize Jerusalem as Israel's capital
With 128 votes, the UN approved on Thursday the resolution reversing Washington's unilateral decision to declare Jerusalem the Israeli capital despite U.S. threats against the voting nations.
In the extraordinary session convened by the Arab countries, the resolution received nine votes against and 35 abstentions.
Shortly after the vote, Palestinian leaders thanked the UN member states that rejected Trump's unilateral move "despite all the pressure exerted on them," Al Jazeera reports.
"This decision reaffirms once again that the just Palestinian cause enjoys the support of international community, and no decisions made by any side could change the reality that Jerusalem is an occupied territory under international law," Nabil Abu Rudeina, spokesman for Palestinian President Mahmoud Abbas, said in a statement.
Mevlut Cavusoglu, foreign minister of Turkey, a co-sponsor of the resolution, said on Twitter that "dignity and sovereignty are not for sale."
Despite the UN vote, Trump's plans to move the U.S. embassy from Tel Aviv to the contested holy city will not change, according to U.S. Ambassador Nikki Haley.
Bolivian President Evo Morales added his weight to the condemnation of Trump's "authoritarian" decision to relocate the embassy to Jerusalem, saying the move "violates international rights and provokes more instability in that region."
"In the General Assembly of the United Nations Organization, the empire has been defeated. Their threats and arrogance have not been able to break the world's support for the Palestinian cause," Morales said after the vote.
Hours earlier, he had Tweeted: "The United States of America believes itself to be the world's boss, threatening to jot down the names of countries that reject its decision to recognize Jerusalem as the capital of Israel," noting that his nation "has no fear."
Trump had also weighed in on the matter, condemning countries which "take our money… even billion of dollars and then they vote against us at the Security Council, or they vote against us potentially at the assembly," according to Reuters.
He had previously praised Haley's message to UN member states, warning that U.S. government officials will also be "watching those votes. Let them vote against us. We'll save a lot. We don't care."