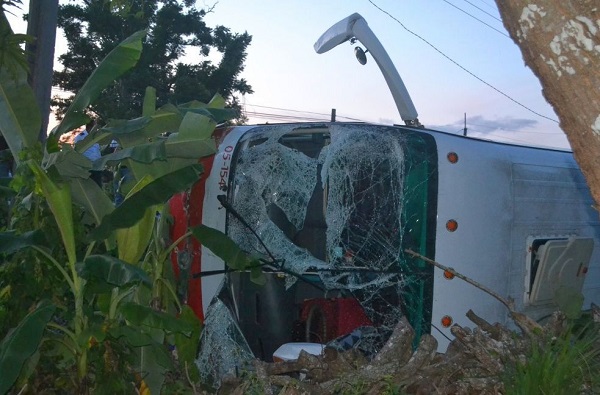 Three people killed and two injured was the result of a traffic accident occurred in Yaguajay, northern Sancti Spiritus, at 3:30 of Monday morning, when the Yutong Bus of Transmetro Company, from Villa Clara, with registration B 169355, collided with a vehicle of animal traction in front of the bus station of this territory.
As a result of the incident, Yaniel Delgado Hernández, 32 years old, and Denis Iglesias Granados, 21 years old, who were in the animal-powered transport, and the omnibus driver, Elier Mederos López, 44, died; all residents of Yaguajay municipality.
According to Dr. Yovisley Ruiz García, general surgeon of the Hospital Joaquín Paneca, Daniela Rodríguez García, 17 years old, remains in the Intensive Care Unit of this institution, reported in serious condition, due to right thoracolumbar trauma. She was also operated of an ankle fracture.
The specialist also reported that 53-year-old Jorge Ramón Cubilla Claro was taken to the Camilo Cienfuegos Provincial General Hospital due to a thoracic trauma with multiple rib fractures that endanger his life.
As a result of the impact, the vehicle of animal traction was destroyed and it was necessary the use of a crane to extract the corpse of the omnibus driver.
The main authorities of the Party and the Government in Yaguajay verified in situ the magnitude of the accident. Specialists from the Ministry of the Interior investigate the causes of the crash.