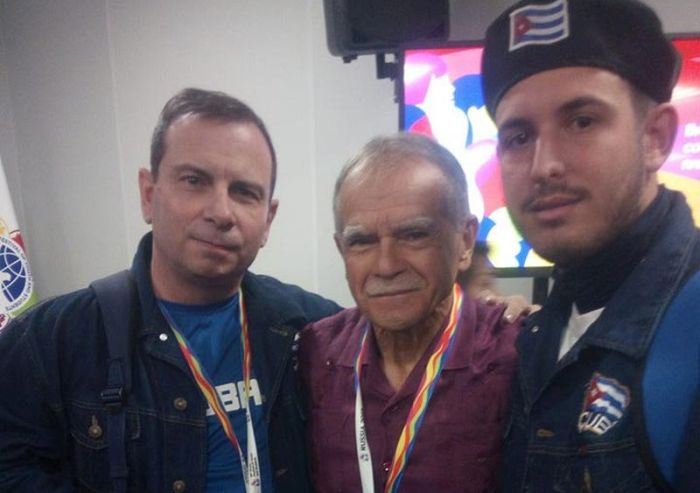 Two young people from Sancti Spiritus remember their participation in the XIX World Festival of Youth and Students
The first time you climb on a plain is unforgettable, especially in a more than 10 hours flight. Luis Ernesto Camellón Curbelo, the only local representative of the Federation of University Students to the world event knows it very well. On Friday, October 13, he was impressed by the Russian aircraft he saw upon arrival at Havana's Jose Marti International Airport. Not only him, but many others who immediately took selfies just before leaving for Sochi.
"When we started boarding the plane, most of our phones were turned on. The artists and the youth delegates were all together as one, as Cuba is. The plane took off after 5:00, and once it was stabilized, we applauded and congratulated each other. We sang Guantanamera, and no one slept during the trip. We arrived in Russia around 3:00 o'clock in the afternoon, according to the time zone there", said the young man still wearing the beret he took to Sochi and which many people wanted to buy from him, or at least photograph themselves with it.
"Whenever people saw us —both Russians and other participants in the Festival—, they shouted Viva Cuba!, Viva Fidel! (Long live Cuba!, Long live Fidel!). Others said: 'There are Cuban doctors in my town, you know'. There were also those who had studied in Havana's Latin American School of Medicine (ELAM) and asked us to say hello to their professors for them. Everywhere there was a recognition for what the Revoltuion is doing, its humanistic work, and for the examples of Che and Fidel".
And, what about the weather?
"We were told there would be 20 degrees, but when we got there were 12 or 13. During the night it got worse. It was both cold and windy. When we got up with 5 degrees, we could see the snow-covered mountains in the horizon. The Russians were wearing just a light vest, and said to us: 'Cuba, calor, Cuba, playa (Cuba hot, Cuba beach)".
Did you learn any Russian?
"I learned how to say thank you, hello, yes, and no. When they say niet (no), they really mean it. Communication with the volunteers was possible with sign language when they did not know Spanish or English".
Any moments or places that reminded you of Cuba?
"We were staying in a village named Alexandrovzki. It had a parking lot where 5,000 or 6,000 people used to gather. The buses that took us to the conference center had the letter P on the front side, like in Havana".
How many photos do you keep from the trip?
"More than 700. Most of us took pictures almost everywhere".
What about the photo you took with Oscar López Rivera?
"He is a grateful man, and he was always talking about Cuba. I was attending a conference about Fidel Castro's thought and the development of science in Cuba. At the end of the meeting, I told Fernando González and Oscar López that I would like a photo with them".
REPORTING FROM SOCHI
A few days after she returned from Russia, Tania Rendón Portelles, a reporter for the Cuban News Agency (ACN), becomes an interviewee.
Did the accreditation process take long?
"It was a slow process because of the number of students who were there, but Cubans do know how to wait. We connected an audio equipment with the song Gallo de pelea (Fighting cock) —this song identified the Cuban delegation in Sochi—. We began to sing and dance, and almost everybody joined the dancing until it started to rain. This made us understood what cold weather in Sochi was about".
When was the first report sent to Cuba?
"The first reports were possible with the help of a Cuban girl who was studying there. Then, we were provided the phone line we needed".
And then?
"We sent the reports via Facebook or Gmail. We could sleep very little because as soon as we returned from the activities, we started processing what we had to write. We, the reporters, went to bed at about five in the morning and got up at shortly after seven".
Tell me about the inauguration ceremony. It was very much commented by Cuban media?
"It was an impressive ceremony in which Cuba had a leading role. There was a moment when the members of our delegation began to make noise, and the over 20 000 people gathered there started to shout Viva Cuba!, and began a never-ending wave".
Tania said that in spite of the differences of language and culture, there were always people present in the activities of the Cuban delegation. For her the most impressive thing was to realize first hand how Cuba was seen by other nations.
The experience of visiting the Black Sea?
"Nobody went into the beach. We just got our feet wet, because the water was extremely cold. We also took photos. The sea is surrounded by large smooth stones. There were even some who collected a few stones as souvenirs".
What about the food?
"It was a pain in the neck. The first time we had lunch, we were served six dishes with salad, but no rice or meat, and when there was rice it didn't have any salt. Everyone was desperate to eat rice and beans and even eggs made in Cuba. Sugar was also a problem. But we could eat fruits like apples, strawberries and pears".
She laughs when telling about the nice experiences she had. "People enjoyed dacing with the music of Van Van, Alexander Abreu, Duani Ramos, Israel and Yoel (Buena Fe), Sosa and Annie Garcés and the rest of the Cuban artists who went to Sochi. Gallo de pelea became a symbol not only for the Cubans, but for all the participants in the Festival, who got used to meet in the Cuban building every night.